Bard College is receiving $50 million, which it will put towards strengthening its Native American and Indigenous Studies work.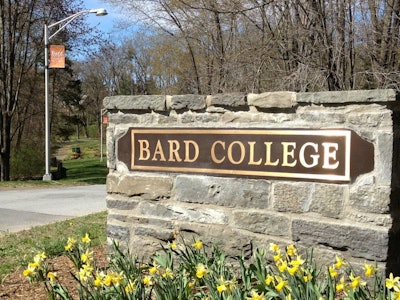 The fund is made up of a $25 million gift from the Gochman Family Foundation and an additional $25 million matching commitment from George Soros and the Open Society Foundations.
The money will fund development of programming – such as exhibitions, visiting scholars, archive and library acquisitions, and publishing – in consultation with Forge Project Executive Director Candice Hopkins (Carcross/Tagish First Nation). Hopkins becomes Bard's Fellow in Indigenous Art History and Curatorial Studies.
Via scholarships, the $50 million will also support enrollment efforts for students from historically underrepresented populations and geographic regions, such as Native American and Indigenous communities.
Bard's American Studies program will be renamed American and Indigenous Studies. And the school will establish a chair for a distinguished/senior scholar of Native American and Indigenous Studies and recruit more faculty.
"This gift represents institutional change, which has been building at Bard and is core to the vision of Forge Project. These lands are layered with histories that are inextricably bound by the displacement and forced removal of Indigenous peoples, yet also rich with knowledge," Hopkins said. "This gift provides the basis for the future building of this knowledge, to shift and expand discourses across fields of study, whether it be in Indigenous and American studies, art history, or curatorial practice. Critically, it also centers the needs of Indigenous students, reducing barriers to higher education, and recognizes that students want to attend programs where they see their interests reflected. Bard is at the forefront of this, and we are honored to be a part of this change."