The U.S. Department of Education (ED) has announced more than $8 million in available grants to fund initiatives for Native students.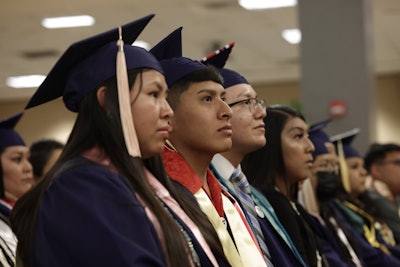 The money will be for programs to support Native American students, including a new Native American Language Resource Centers (NALRC) program to help preserve Native languages ($2.9 million); the first-ever Native American Teacher Retention Initiative competition to help address the shortage of Native American educators ($2.75 million); and the State Tribal Education Partnership (STEP) grant program to strengthen Tribal self-determination and promote collaboration among tribal, state, and local agencies ($2.4 million).
"Our efforts to Raise the Bar for multilingual learners includes strengthening and revitalizing Native languages and the recruitment, retention, and leadership of Native educators," said U.S. Secretary of Education Dr. Miguel A. Cardona. "These investments, totaling more than $8 million, reflect our belief at the Department of Education that Tribal Sovereignty starts with Educational Sovereignty, and that all Native students deserve access to an inclusive, culturally affirmative education that's reflected in the teachers in their schools."
Cardona added that the Biden-Harris administration "is committed to addressing teacher shortages and growing and retaining a pipeline of educators who can meet the needs of Native students and provide instruction that's grounded in appreciation for and understanding of their unique Tribal histories, traditions, languages, treaties, and cultures."