Two Houghton University employees were fired after not following the school's email signature guidelines on pronouns, USA Today reported.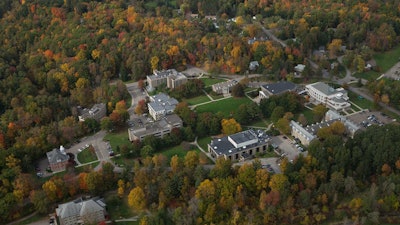 Dorm directors Shua Wilmot and Raegan Zelaya – he/him and she/her, respectively – had included pronouns in their email signatures, refused to remove them, and in April, received letters notifying them of their termination.
The Christian university cited the two's "continued use of pronouns, and [their] email signature and violation of institutional policy after [they] had been asked to remove them." It also said Zelaya made defamatory remarks about the school's diversity efforts and that Wilmot threatened to publish an open letter to the General Superintendent of the Wesleyan Church about its views on gender.
The university has never fired employees solely based on the use of pronouns in staff email signatures, it said in a May 22 statement.
"Over the past years, we've required anything extraneous be removed from email signatures, including Scripture quotes," the school said.
Wilmot and Zelaya said Houghton had sent out an email letting employees know how to format their signatures for branding purposes, including avoiding bible verses, links, odd fonts, and differing color schemes. Wilmot had put his pronouns instead of a phone number.
"In my role … I don't post my phone number," Wilmot said in a joint video. "Where I would put my phone number, I instead put he/him."
Zelaya said in the video: "I was being fired because my email signature was not aligned with institutional policy and they specifically mentioned my pronouns but they don't mention my meeting link that I had at the bottom, which wasn't institutional policy either. It just shows the priority of what was bothering them about my email signature."
The two cited the gender-neutral nature of their names – Wilmot goes by Shua –, the desire to not have people who misgender them be uncomfortable, and the hope to normalize pronouns in email signatures.
"I really thought about this and came back and said in the next conversation with my dean that when it comes to an issue of justice, inclusive justice or anything else, if you feel like you're asked to do something that's not just, don't do it," Wilmot said. "If you have the privilege, if you feel safe enough to not comply, then don't comply."
The firing comes amid other ongoing gender identity and LGBTQ+ controversies, such as proposed legislation to ban drag shows or deem them adult entertainment and Anheuser-Anheuser-Busch getting backlash for statements issued after anti-LGBTQ+ customers disapproved of a promotion featuring a transgender individual.