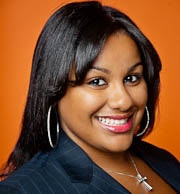 WASHINGTON, D.C. — When Alejandro T. Reyes was attending college and law school he saw for himself a future as a public interest attorney, but he didn't know anybody in the field. Thankfully, he landed an Equal Justice Works fellowship upon graduating from Howard University School of Law, which set him on his path.
After joining the Lawyers' Committee for Civil Rights Under Law in 2010, he began to discuss the idea of developing a fellowship that helped cultivate the next generation of people committed to working in public advocacy and social justice both as attorneys and in other capacities.
"We want to give new emerging leaders access to what we've learned after being in the field," said Reyes. "We want to give them access to our networks, to the lessons we've learned. We want to provide them access to civil rights leaders that have been working on social justice issues for their entire careers. That's part of the programming."
Last week, the Lawyers' Committee introduced its two inaugural fellows, Tania Chairez and Najaah Daniels, who were selected from an outstanding pool of applicants. Both are the first in their families to attend a higher education institution (thus the FirstGEN designation) and intend to pursue careers in the civil rights field.
Chairez is from Phoenix and attends the Wharton School of Business at the University of Pennsylvania, studying marketing and sociology. She is vice chair of the Latino Coalition at her school and co-founder of the student group Penn for Immigration Rights.
Daniels, a 20-year-old New Yorker, is part of a six-year B.A./J.D. program at St. John's University. Involved in social justice organizations since age 14, at 16 Daniels was the youngest person ever elected president of the New York state youth and college division of the NAACP.
"I feel like this fellowship is a wonderful opportunity because I am interested in politics," said Daniels. "I feel this will be a good foundation."
Given that this is new for the Lawyers' Committee, the fellowship, which begins June 3 and lasts for 10 weeks, will pay each of the fellows a modest $1,500 stipend. It is the first time the organization is paying anything to an intern. Reyes said of course they hope the amount will increase in future years.
Daniels, a recipient of the Gates Millennium Scholars Program, said she chose the fellowship over significantly more lucrative offers she received for summer employment.
"My whole thing is how it is going to benefit me in my journey or my goals in the future," said Daniels, who plans to enter politics with a focus on education reform. "I feel education is such a powerful tool that we don't utilize to our best abilities."
"Education policy is something that I've always been very passionate about and something I want to work with in the future," she added. "That's what I plan on working on once I get into Congress or the Senate."
Helping create a realistic roadmap to set her on the path to such lofty goals is precisely what the fellowship is about.
"We want to open doors and help them understand how we engage in social justice or advocacy work," Reyes said. "We want them to figure out how they want to be effective as emerging leaders."
Monday through Thursday the two FirstGEN fellows will be working on various public policy projects of the Lawyers' Committee. This will involve going to Capitol Hill, meeting lobbyists and interacting with people advocating for change. Then each Friday they'll interact with guest speakers, visit other social justice organizations and learn about what it takes to be engaged in advocacy from diverse perspectives.
"There are things that took me a long time to figure out in terms of what it really means to be a public interest attorney," Reyes said. "We want to open those doors.
"Here in Washington, D.C., a lot of your success is based on the people you meet, the conversations you have, and a sense of community you build because you're interested in similar issues. We want to begin that process for these two individuals.
"They are going to be amazing regardless," he continued. "This program is designed in a small way to hopefully get them to be amazing faster."
The goal ultimately is to build an alumni network of FirstGEN fellows who will be supportive of each other and nurture future generations.