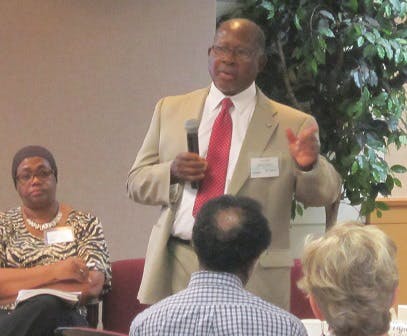 WASHINGTON — In the effort to create high-impact international education programs, colleges and universities should develop strategic plans that derive support from their administrations and involve administrators, faculty members, staff, and students throughout the institution.
This was one of the key points speakers from the American Council on Education (ACE) emphasized Thursday morning to more than 50 historically Black college and university (HBCU) administrators and faculty members during the Institute on Internationalization at HBCUs. The institute is a training forum aimed at helping HBCUs develop their international program capabilities.
"We have a very important job to do, and those of who are represented in this room today are at the cutting edge," Patti McGill Peterson, the ACE presidential advisor for global initiatives, told institute participants.
"You'll make the difference on whether or not we have institutions that struggle … or are creating the forward movement to lead them to be solid and attractive places that will be good for your own students and good for the international students who come to you," she noted.
Peterson was one of the keynote speakers who welcomed the HBCU representatives to the two-day institute, which is sponsored by the ACE Inclusive Excellence Group and the ACE Center for Internationalization and Global Engagement. The Washington-based ACE is considered the one of the nation's most influential higher education associations, representing the presidents of accredited, two- and four-year degree-granting institutions.
With the institute concluding today, ACE officials have nearly reached the end of a three-year U.S Department of Education grant that has sought to stimulate HBCU internationalization efforts. The goals of the project have been to identify the factors that enhance and hinder the internationalization process at HBCUs and to disseminate project findings to the broader HBCU community, according to officials.
"As part of the (Education Department) grant project, this institute is a culminating event. We're at the latter part of the three-year grant," Dr. Gailda Pitre Davis, the associate director for the ACE Inclusive Excellence Group, told Diverse.
Since January 2011, ACE has worked with seven schools, which formed an "internationalization learning community." School teams at the institutions have audited their international activities with the aim of creating a strategic plan that will accelerate the internationalization process. Project findings and strategies for enhancing campus internationalization efforts are being shared at this week's institute. In addition to team members from the seven schools, representatives from nearly 20 additional HBCUs are attending the institute.
The seven internationalization project HBCUs are Dillard University, Howard University, Lincoln University in Missouri, North Carolina A&T State University, Savannah State University, Tuskegee University, and Virginia State University. "I know from at least one visit that I made to Virginia State that this (project) has been a labor of love and endurance for many of you, and you made great strides," Peterson said.
Dr. Brad Farnsworth, the assistant vice president for the ACE Center for Internationalization and Global Engagement, defined and explored the concept of "comprehensive internationalization" for institute participants. "Comprehensive internationalization begins with an inventory of all your international activities … It's a strategic coordinated approach to the internationalization of your campus," he said.
Farnsworth warned participants that institutions far too often stumble with their international programs because the initiatives are developed with too little institutional support and become bureaucratically isolated. What schools often discover is that despite a significant investment in their study abroad programs only a small percentage of students actually make it overseas, he said. And the institutions end up seeking help from ACE on developing a plan that will involve all of their students, according to Farnsworth.
Another pitfall for colleges and universities occurs after their efforts to develop partnership and exchange programs with foreign governments and overseas higher education institutions become too cumbersome to manage effectively. "Institutions have come to us and have said 'We have too many partners and we don't really know why we have some of these partnerships, and we've never really done a strategic plan,'" Farnsworth said.
Farnsworth presented a model to institute participants outlining six components of comprehensive internationalization. The components are articulated institutional commitment; adequate administrative structure and staffing; setting of curriculum and learning outcomes; faculty policies and practices; student mobility for exchange and study abroad programs; and collaborations and partnerships with overseas institutions.