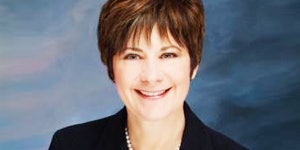 Nearly 6,000 women engineers converged on Baltimore last week for the Society of Women Engineers (SWE) annual conference to sharpen their skills, network and meet recruiters at the three-day event.
This year's theme, "Make Connections, Make History," was evident as women of all ages poured into the Baltimore Convention Center on a mission to improve themselves, connect with others who can identify with their challenges, meet with recruiters and enjoy themselves.
The Chicago-based organization has served women engineers since 1950. Its long history of breaking new ground is what SWE President Stacey DelVecchio said is an area of great pride.
"One of the early presidents still comes to the conference, and it's wonderful for her to see the progress," said SWE President Stacey DelVecchio, who has been a member of SWE for 20 years. "Those women had a vision. I think about how far we have come, and I thank our founders."
In recognition of its legacy, a large historical timeline was on display, along with some of the society's accomplishments, such as outreach to K-12 girls to encourage them to go into science, as well as work with corporate partners supporting women in the field.
The SWE Conference is the largest of its kind, bringing together engineering students, graduates seeking jobs and mid-career engineers who are looking to advance to the next level. The conference included local tours, daycare, events and workshops while helping women engineers know that they are not alone, even though many frequently find themselves as the only woman in meetings and on the job.
Attendees were able to have their resumes reviewed and received consultation for careers and life transitions, while others attended sessions on topics including "Build Your Brand as an Emerging Leader," "What to Expect After Expecting: Being an Engineer and Mother" and "Men as Diversity Partners."
The conference offered the largest career fair for women in engineering and technology with 260 corporations, government agencies and universities represented.
Though women have made significant gains in the field, DelVecchio said there is still much work to be done to increase the numbers, bring parity in pay and opportunities and helping women find their voice.
"So many companies realize the value of diversity — that diverse teams are more innovative," DelVecchio said. "They have the why. They look at the numbers and they know it's the right thing to do because it affects the bottom line. With only 14 percent women in the engineering workforce, they've got to be able to keep them."
Monique Warren, an African-American quality engineer at Boeing for 15 years, said she came to the conference to improve her ability to influence as a lead engineer.
"I've attended sessions on how to inspire without being an actual manager," Warren said. "I like leading groups. I wanted to learn ideas about how to do it better."
Warren was among 150 Boeing employees attending the conference. "I like the diversity in Boeing and its culture. I've had a lot of opportunity for growth."
A group of 50 Nigerian women engineers traveled to the SWE Conference hoping to bring back information and strategies for their jobs at the Ministry of Works and Infrastructure in Nigeria.
Ibironke Olukoko said she has attended the conference three times and the 13-hour plane ride was well worth it.
"I want to learn about new technology and get new ideas," Olukoko said. "We come for the interaction and to share ideas from an international perspective."
Students from the SWE chapter at North Carolina A&T took advantage of workshops that targeted college students to help them prepare to get internships and their first job. In addition, they sat in on a SWE K-12 outreach workshop to help them with chapter projects.
"It gave us ideas on things that we can do within our chapter in preparation for our careers," said Fredrienne Langley, a junior biomedical engineering student at N.C. A&T and an SWE Chapter officer.
Next year's SWE Conference will be held in Los Angeles, Calif., Oct. 23-25, 2014.