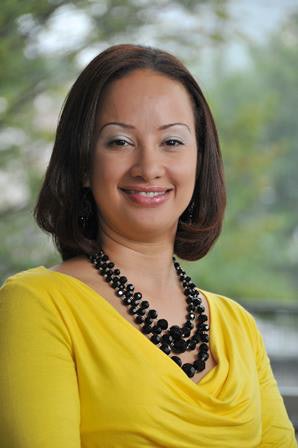 Growing up in the Bronx, Dr. Jillian Lucas Baker was fortunate to have a strong family support system cheering her on from the sidelines.
"I lived with parents, grandparents and great-grandparents in one house" says Baker, who recalls the living quarters that she once shared with nine other people until she headed off to college in the late 1990s. "Having my elders in my life had a huge influence on me because they were big on education."
Though she was the first in her immediate family to attend college — gaining acceptance into the prestigious University of Pennsylvania — her accomplishments were celebrated by family members who remained deeply supportive even as she decided to press on for an advanced degree.
Now, at the age of 35, Baker is an assistant professor in the Master of Public Health Program at La Salle University and credits her family and mentors like Dr. Loretta Jemmott, a world-class researcher and nursing faculty at the University of Pennsylvania, with helping her to develop a keen interest in public health issues.
Baker's dramatic rise to become one of the nation's leading researchers on developing ways to stem the HIV crisis, particularly in minority communities, was hardly predictable.
As a psychology major at Penn, Baker was unsure of her career trajectory until she enrolled in Jemmott's human sexuality class during her junior year and became fascinated by the subject.
Impressed by Baker's performance in the class, Jemmott recommended her for a job as a research coordinator working with her husband, John, who runs the Center for Health Behavior and Communication Research at the Perelman School of Medicine at Penn.
In that position, Baker worked on implementing HIV and sexually transmitted disease prevention programs in public schools across the city of Philadelphia.
"It was my first exposure to how research is actually implemented," says Baker, who stayed in the position for almost four years while also pursuing a master's at Temple University part time.
One of Baker's early tasks was to recruit committed couples who had been together for some time — one partner had to be HIV positive and the other negative — for a study.
"It was a hard job for lots of reason," Baker recalls. "I had to get emerged in the HIV community in Philly. We hit the streets, went to all the HIV organizations and began networking with people."
Baker's work with Loretta and John Jemmott continued. In 2007, for example, she was hired as project director of a HIV prevention program at the Center for Health Equity Research and worked with Loretta Jemmott on a program called Sister to Sister, a funded initiative by the Center for Disease Control and Prevention that targeted African-American women.
Excited by the work that she was doing, Baker knew that she needed a doctoral degree if she was to advance in the field and take on more responsibilities. In 2004, she stumbled upon news that Drexel University was in the process of launching a doctoral program in Public Health. She applied, was accepted and earned her degree in 2009, concentrating on community health and prevention and writing a dissertation under the supervision of Dr. Lisa Bowleg.
Her experience in the field, coupled with her doctoral degree from Drexel, eventually helped Baker land a tenure-track position as an assistant professor in the Master of Public Health program at La Salle University in Philadelphia.
"Her teaching from the jump has been exceptional," says Dr. Brian A. Goldstein, the Dean of La Salle's School of Nursing and Health Sciences, who points out that Baker's ability to obtain a grant from the National Institutes of Health to study how African-American fathers and father figures address risky sexual behaviors with their adolescent sons is unprecedented in the school's history.
Because La Salle is primarily a teaching institute, Goldstein says, "we're not use to having a NIH grant," adding that Baker has played an important role outside of the classroom in spearheading the launch of the school's new Bachelor in Public Health program.
"It's very unusual for a junior faculty member to help lead a new program, but to be in that kind of leadership role speaks to her drive, determination and intelligence."
Loretta Jemmott, who has known Baker for more than a decade, says that she's encouraged by her protégé's evolution from student to a respected colleague.
"She is a bright young lady whom I've had the pleasure of working with for a mighty long time," says Jemmott. "Her focus is strong, and she's passionate. It makes me proud to know that after I've mentored her, she's now mentoring others and passing the knowledge on."