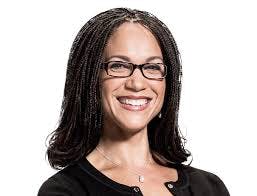 MSNBC television host Dr. Melissa Harris-Perry is leaving her teaching job at Tulane University at the end of the semester to become a presidential chair in the Politics and International Affairs department at her alma mater, Wake Forest University.
"My love affair with Wake Forest began when I was 16, so having the opportunity to return is thrilling beyond measure," said Harris-Perry in a statement released by Wake Forest. "Wake Forest taught me the joys of learning, the responsibilities of citizenship, and the endurance of friendship. I welcome the challenge of joining this demanding and nurturing academic environment."
According to university officials, the endowed chair that Harris-Perry will hold recognizes and supports exceptional faculty who embody Wake Forest's teacher-scholar ideal. She is the second Presidential Chair honoree, joining Michele Gillespie of Wake Forest's History Department.
"Melissa Harris-Perry is one of the nation's foremost intellectuals publicly exploring — and thoughtfully influencing — the intersections of politics, race, gender, religion and culture," said Wake Forest Provost Dr. Rogan Kersh. "We are delighted that she has chosen to come home to Wake Forest and help ignite in our students the passion she has for contemporary political issues and social justice."
Harris-Perry's time at Tulane was short-lived. She arrived in 2011 and was the founding director of the Anna Julia Cooper Project on Gender, Race, and Politics in the South, which was headquartered at the university. She also taught in the political science department.
In an interview with Diverse in 2011, she said that the Tulane offer — and the opportunity to lead her own center — came at the right time. After five years teaching at Princeton University, she said that she was starting to feel isolated from the very people she writes about.
"I'm an empiricist. I study Black communities, but I lived in Princeton," Harris-Perry told Diverse. She relocated to New Orleans, where she currently lives with her mother, children and husband James Perry, a lawyer and community activist who waged an unsuccessful bid for mayor of the Crescent City in 2010.
Relations between Princeton and Harris-Perry had hit an impasse after she was denied promotion from associate to full professor. At the time, Harris-Perry said that she received support for her promotion from her colleagues in the political science department, but alleged that several prominent faculty members in the Center for African-American Studies were ultimately responsible for blocking her advancement.
Since the debut of her MSNBC weekend television show in 2012, she has been commuting back and forth from New Orleans to New York and has developed a national following. When she arrives to Wake Forest in July, she will bring the Anna Julia Cooper Project on Gender, Race and Politics in the South with her.
"I am most honored to have an opportunity to bring Anna Julia Cooper home to North Carolina," she said. "Establishing a research center in Cooper's name at Wake Forest University will preserve her legacy of Black feminist scholarship that transcends the traditional boundaries between academy and community."
It was as an undergraduate at Wake Forest that Harris-Perry met and was mentored by poet and author Dr. Maya Angelou, who holds the Reynolds Professor of American Studies at the university located in Winston Salem.
The 40-year-old is the author of Barbershops, Bibles, and BET: Everyday Talk and Black Political Thought, and Sister Citizen: Shame, Stereotypes, and Black Women in America. After she received her bachelor's in English with a minor in politics from Wake Forest, she went on to earn a Ph.D. in political science from Duke University and landed her first teaching job at the University of Chicago before she headed to Princeton and Tulane.
Jamal Watson can be reached at jwatson1@diverseeducation.com. You can follow him on twitter @jamalericwatson.