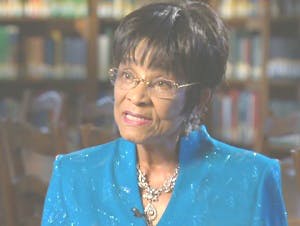 The $30 million donation made to build Dauterive Hall in 2012 was just one of many donations to the University of Southern California made by Dr. Verna Dauterive and her husband, Peter Dauterive, who met on campus.Dr. Verna Dauterive met her husband, Peter Dauterive, in Doheny Library at the University of Southern California, which she first attended in the times of segregation. There were few African-Americans in the faculty or among the student body when they met. The couple dreamed of one day dedicating a building as beautiful as the ones they saw on campus.
That dream will finally become a reality when USC celebrates the grand opening of Dauterive Hall, USC's first interdisciplinary building for the social sciences, on Wednesday. The building was made possible with a $30 million gift from Dauterive, which is among the largest ever bestowed by an African-American to a U.S. university.
Her gift to USC was only recently surpassed by that of another African-American, Andre Young, more popularly known as Dr. Dre. Young and Jimmy Iovine made a joint gift of $70 million to establish an academy in their names in 2013.
Dauterive graduated from USC with a master's in 1949 and later a doctorate in education, eventually holding a faculty position at USC's Rossier School of Education. She also served as the superintendent's coordinator of integration programs with the Los Angeles Unified School District. Her husband graduated from the business school and went on to make his mark as president and CEO of Founders Saving & Loan Association.
As the coordinator of integration programs, Dauterive witnessed the inequality among schools, even in the same district. She said that the most important lesson she learned from that experience is that true educational equality is not easily achieved and certainly cannot be achieved simply as a result of a court decision.
"Court decisions alone will not bring about equal opportunities for all; they simply will not," she said. "The great American dream, in my opinion, can be achieved and will be achieved only when all races of people, White and non-White, will approach this problem cooperatively, on the basis of mutual understanding, respect for human rights, and consideration for the dignity of the individual."
In addition to their distinguished professional careers, the Dauterives were consistently generous as USC alumni. The hall is one of many gifts.
Dauterive said that her husband made a point of giving back to others.
"He was a person who liked to reach back to those who followed," she said. "When he was alive, that was why we created an endowed scholarship that would help others, especially minorities, to come to USC and take part in something that is really life changing."
For Dauterive, philanthropy is a unique joy. "The sheer of giving has been inspirational to me. I like to see a face light up and smile when they are receiving a gift, or some help in any way. I have a sense of responsibility to help others whenever I can."
Though her husband has passed away, Dauterive said that he would have approved of her gift.
"He would just jump for joy. He really would," she said. "He was so profoundly grateful for the superior education that he received at USC and the fact that USC opened so many doors that we both never could have imagined."
Dauterive looks forward to continuing her relationship with the university through a base at the hall.
"Of course, I'm going to have an office there," she said. "It's going to be a good deal of fun."