City College of New York and the University of Texas at El Paso have joined forces in an effort to increase the number of Hispanic faculty in science, technology, engineering and mathematics (STEM) programs at higher education institutions.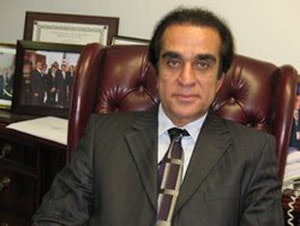 The program, which started last week, is called "Collaborative Research: The Hispanic AGEP Alliance for the Environmental Science and Engineering Professoriate," and is receiving $3.7 million in funding from the National Science Foundation.
"I am very excited about this partnership as CCNY and UTEP are two very strong and influential HSIs," Dr. Marybeth Gasman, the director of the Penn Center for Minority-Serving Institutions at the University of Pennsylvania, said in an email response to Diverse. "Both institutions have excellent STEM programs."
CCNY is based in Harlem and serves a large number of Hispanic students. UTEP, located in El Paso, has about an 80 percent Hispanic student population. At both institutions, the percentage of Hispanic students in relation to the overall student body is not reflected proportionately in the number of Hispanic faculty, which has become a common scenario at many colleges across the nation.
"We both serve a large Hispanic community in each of our institutions," said Dr. Kyle McDonald in a phone interview, chair of the department for Earth and Atmospheric Science and one of five CCNY faculty members leading the program. UTEP will be led by three experts.
McDonald said the need to create a pipeline is great.
"At City College, we're one of the most diverse universities in the country. We have a very large minority population here, but when we recruit for new faculty, we really notice that there is a shortage of applicants coming from the Hispanic community," McDonald told Diverse.
CCNY officials say that increasing the Hispanic applicant pool is a long-term objective for CCNY.
With low numbers of minority faculty on campuses, minority students are less likely to see a reflection of themselves in terms of attainment and achievement when they enter the classroom. The educational partnership between the two schools is designed to tackle this issue and provide pathways for Hispanic students of Caribbean or Mexican origin to gain the opportunities in becoming members of college faculties.
"I like the idea of HSIs partnering with each other to move the STEM fields ahead," Gasman said. "We need to look to HSIs for expertise with Latino students and future faculty as they have the track record for success."
Innovative educational based projects have been developed to enhance the graduate school experience for participants. As part of the program guidelines, student participants must be pursuing advanced level doctoral degrees in environmental sciences and engineering fields.
Led by faculty from each school, the program is overseen by CCNY's National Oceanic Atmospheric Administration Center for Earth System Sciences and Remote Sensing Technologies (NOAA CREST), whose mission is to "increase diversity in the future workforce of the country," said Reza Khanbilvardi, director of NOAA CREST, in a phone interview. "We are mandated to bring the diverse student population into our labs, research classrooms, and educate and train them."
Actively serving minority students since 2001, NOAA CREST works with students by implementing a model that requires students to engage in mentorship, take part in student organizations, and provide them with exposure through attending national conferences and giving presentations of their work.
The educational collaboration is meant to provide Hispanic students with a stronger emphasis on higher education and academic environments.
"We are building not only on capability and infrastructure but also the pipeline to community colleges," Khanbilvardi said.
Khanbilvardi added that the emphasis on community within the program allows students to learn how to successfully navigate their own communities and actually apply the research that they learn.
Skills sets important for transitioning to a faculty member include writing, communications, and research code and conduct for the work environment.
"Those are all essential key elements when you decide that you want to become a faculty," Khanbilvardi explained. "It's very competitive out there for faculty positions and you have to be trained to be able to show the skills sets in the various ways that they attract potential employers."
Collaborative Research: The Hispanic AGEP Alliance for the Environmental Science and Engineering Professoriate has recruited its initial participants and will work with them throughout their 4-5 year doctoral programs.
Gia Savage can be reached at gsavage@diverseeducation.com