Dr. Juan Gilbert, the Andrew Banks Family Preeminence Endowed Professor and chair of the University of Florida's Department of Computer & Information Science & Engineering, received the National Medal of Technology and Innovation on Tuesday from President Biden.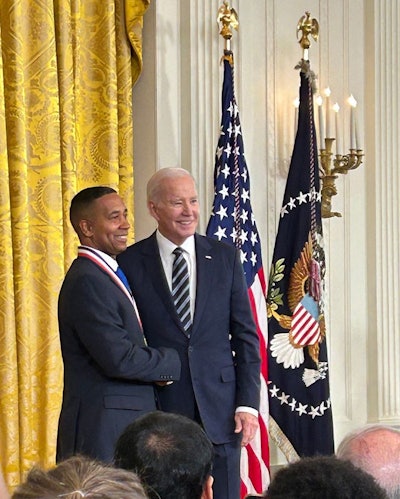 Gilbert was honored at a White House ceremony for pioneering a universal voting system that makes voting more reliable and accessible and for helping to increase diversity in the computer science workforce.
The National Medical of Technology and Innovation recognizes those who have made lasting contributions to America's competitiveness, standard of living, and quality of life through technological innovation.
"The mission of the research enterprise at the University of Florida is to make a positive difference in the lives of people in the state, the nation, and the world, both in the present and in the future," said UF President Dr. Ben Sasse. "Dr. Gilbert is doing that. We could not be more pleased."
Gilbert said that his interest in voting security came about in the wake of the 2000 U.S. presidential election.
"We were just trying to fix a problem," Gilbert said of the election that pitted Al Gore against George W. Bush. "If you can't vote, how is that different from not having the right to vote? What is gratifying is changing the history of voting."
In 2000, Gilbert became the first Black person to earn a Ph.D. in computer science at the University of Cincinnati. The Ohio native has been actively working to ensure that the computer science field remains diverse.
"I've always wanted to help other people and I saw science as empowering," said Gilbert.