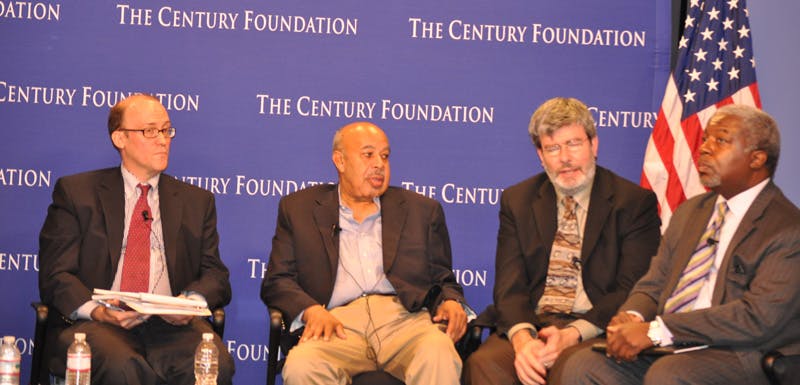 WASHINGTON – As the U.S. Supreme Court prepares to soon hear the case about whether race should be allowed to be used in college admissions, the attendant debate has caused many to lose sight of the broader purpose of higher education.
That was the criticism that Harvard law professor Lani Guinier levied Thursday during a panel discussion titled "Will Affirmative Action in College Admission Survive."
Guinier was joined on the panel by Ward Connerly, a former University of California Regent and a longtime critic of race-conscious affirmative action.
Guinier said too much weight has been given to college entrance exam scores and public opinion about the merits of race-conscious affirmative action.
"We're measuring the wrong thing in the way that we're admitting everybody," Guinier said. "We're having this conversation that's provoked by people's objection to race-based affirmative action and we're claiming that people of color are the problem."
In reality, she said, people of color are "the opportunity for us to see what really works in higher education."
"What is it that we want our graduates of color from law school or Ph.D. programs to be able to do in service to our democracy?" Guinier asked, questioning whether it was to "get the highest test scores" and "make a lot of money."
"Or is the purpose of higher education to learn how to solve problems collaboratively, creatively, innovatively?" Guinier said. "The purpose is to benefit all Americans by bringing to institutions of higher education people who have been denied opportunity for hundreds of years.
"That includes poor people of any color and using the system of higher education to train them so they can become leaders in our democracy to help us solve really tough problems."
Thursday's panel discussion was organized by The Century Foundation, which also released a new report in conjunction with the event. The report, titled "A Better Affirmative Action: State Universities that Created Alternatives to Racial Preferences," suggests that socioeconomic-based affirmative action represents a better way to achieve parity for minority students from disadvantaged backgrounds.
The report also suggests that the U.S. Supreme  Court, which is more conservative than it was in 2003 when it last took up the issue of race-conscious affirmative action in higher education, "may very well" curtail or even eliminate race-based affirmative action in college admissions when it decides Fisher v. The University of Texas at Austin.
Oral arguments in the case are scheduled to take place Wednesday. The case was brought by Abigail Fisher, a White student who claims she was denied admission at UT Austin because of her race under the college's use of race-based affirmative action, in violation of the Constitution's Equal Protection clause in the 14th Amendment.
Richard Kahlenberg, senior fellow at The Century Foundation and author of the report, said that, based on the number of amicus briefs filed in support of UT Austin in the case, "You would think there is overwhelming support for affirmative action."
While the number of briefs in support of race-based affirmative action is "impressive," Kahlenberg said, "if you look at broader public opinion, it appears as though only a quarter of the U.S. population supports the idea of race in college admissions."
That drew sharp criticism from Debo P. Adegbile, Acting President and Director-Counsel of the NAACP Legal Defense and Educational Fund Inc., who said it was "misguided" to let public opinion factor into the legality of race-based affirmative action.
"It is particularly dangerous to talk about rights and race in America as polls and plebiscites," Adegbile said. "The constitutional system is designed to protect minorities from certain incursions on those rights that we have seen."
Connerly, the American Civil Rights Institute president, took a different tact.
"We had to know the day would come when race would no longer be acceptable to our rapidly changing, multiracial society," Connerly said. "And that day is here now, and I hope that this better way that The Century Foundation has offered to us is widely embraced and pursued."
Connerly cautioned, however, about what to expect out of socioeconomic-based affirmative action.
"We should not make it appear that this is an across-the-board swap for race-based affirmative action," Connerly said. "It is not, and we don't want to baggage it up with all the baggage that race-based affirmative action has right now, because, in very short order, that paradigm will suffer the same problems that race-based affirmative action has garnered over the years."
"We ought to do (socioeconomic-based affirmative action) because it's the right thing to do," Connerly said. "Public institutions should be helping students who have no other access."
Thursday's discussion also included UCLA law professor Richard Sander, who challenged Guinier's assertion that college entrance exam scores are not strong predictors of performance, something she said she discovered doing research during her time as a law professor at the University of Pennsylvania.
Adegbile said a brief filed by 11 empirical scholars "blows holes" in Sander's arguments. Sander responded that he'd debate any one of the empirical scholars in front of a panel of three agreed-upon social scientists and "stake a large prize for the winner."