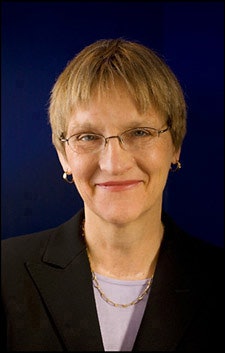 Washington — In order to bring about scientific breakthroughs that are yet undreamed, government must fund research that seeks to answer broad questions and not just narrowly focused projects where most of the work has already been done.
That was one of the key points that Harvard University President Drew Faust made during a talk she gave this week at an event meant to examine the role that institutions of higher learning play in innovation and making the economy stronger.
"We have to sustain the kinds of questioning that will have longer-term benefits," Faust said.
As an example, she cited research investments made under the Nixon administration to fight the war against cancer. That research, she said, yielded knowledge about retroviruses, which has enabled scientists of today to combat AIDS.
"We didn't know that's what it was going to yield," Faust said. "And if we had said, 'Don't look beyond the blinkered focus of the project for which you have asked for funding, we would greatly limit the long-term impact."
Faust made her remarks Monday at the Center for American Progress during an event titled "Investing in the Future: Higher Education, Innovation, and American Competitiveness."
The Ivy League university president share how her institution relies upon $700 million in federal research grants per year — money that has led to nearly 200 patent applications among faculty and the launch of ten business ventures. But the patents and business ventures represent only a small piece of the picture of how innovation is occurring on campus, Faust said.
"A lot of what we do is very basic discovery that won't immediately generate a patent or a company, but will be the foundation for discovery 10 years from now, five years from now," Faust said.
She said her faculty members have complained that grant guidelines often call for very specific projects that spell out exactly what will be discovered, and that it's hard to get funding for "big questions."
"I think that is very frightening," Faust said.
She credited NIH with beginning to recognize the problem by making available more grants for bigger questions.
"But it is a problem if we just deliver on what's immediately visible, and we don't look more long-term," Faust said. "I think universities are institutions that ought to emphasize the long term, as well as our immediate contributions."
Faust also stressed the need to make college affordable and "imaginable" for students at the K-12 level.
"How do we make sure they graduate and make sure they have the choices and paths forward that we would like to see to strengthen the economic foundation and to also enable them to be the kind of innovators that build a dynamic economy in the future?" Faust said.
Other speakers at the event included Gene Sperling, director of the National Economic Council and assistant to the president for economic policy. Sperling said innovation is not an end-all unto itself, but rather the means to the broadening of the middle class and expanding social mobility.
Sperling stated that a progressive tax code is "not about redistribution or populism or punishing success."
"What it really is about is a national commitment to pay it forward, to recognize that those of us who have benefitted the most from the innovations of the past, from the investments of the past, have an obligation, if we are doing well, to pay it forward, to make sure we are giving this generation and the next generation the same building blocks of [research, education and modern infrastructure] so they have the same chance to grow and prosper," Sperling said.
Glenn Hutchins, co-founder of Silver Lake, a firm that invests in technology and technology-enabled business, stressed the need for the administration to solve the "fiscal cliff" problem. Everything else, he said, hinges on that. Hutchins also cited the need for a tax code that is more conducive for small business to compete.
Susan Molinari, vice president of public policy and government relations for Google, stressed the role of the liberal arts in getting students to "think outside the box or not even see the box." This, she said, is consistent with Google's company ethos of having a "healthy disregard for the impossible."
Jonathan Moreno, senior fellow at the Center for American Progress, said he would like to see greater federal investment in research and development, lamenting that right now, only 1.4 percent of the federal budget is devoted to research and development. He also stressed the need for the federal government to "say good things about the sciences, particularly life sciences."
The politics surrounding controversial scientific endeavors, such as stem cell research, has driven some young scientists to make career decisions based on fear that there is no future in scientific fields, Moreno said.