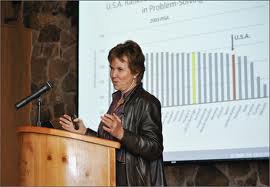 WASHINGTON — Of all the efforts to show which teacher preparation programs are the most effective and which ones are the least, the one that could potentially have the biggest influence on the public is the Teacher Prep Review being produced by the National Council on Teacher Quality.
A $5 million project in the works since early 2011, the review is set for release this April as one of the latest additions to the college rankings published by U.S. News & World Report.
Creators of the Teacher Prep Review say the syllabi and other materials they are examining to produce the review are sufficient to determine if teacher prep programs are meeting a series of standards that NCTQ describes as the "nuts and bolts of building better teachers."
Those standards — there are 18 in all — include how selective a program is, for instance accepting only students with a 3.0 GPA or higher, or whom tests show are in the top-half of the college-going population.
Other standards include whether a program prepares teacher candidates to teach reading skills to students at risk of reading failure and making sure that teacher candidates have a "strong student teaching experience." If programs are found to have indicators that they met a particular standard, they will be designated as having a "strong design" in that particular area.
"I think you can judge programs by design," Arthur McKee, managing director of teacher preparation studies at NCTQ, told Diverse during a recent visit to NCTQ headquarters. He noted that NCTQ will maintain editorial control over the Teacher Prep Review, even though it's being published in U.S. News & World Report.
McKee likened the standards by which NCTQ is judging the teacher prep programs to design principles for a bridge. That is to say, if proven design principles are adhered to, one can be rest assured that the bridge will be structurally sound.
But that analogy isn't very reassuring to critics such as Frank B. Murray, president of the Teacher Education Accreditation Council.
"Well, that's like knowing only the blueprint for the bridge," Murray said of McKee's design principle theory. "You don't know until the bridge is actually constructed whether that blueprint was followed."
Like blueprints, course syllabi only represent what was planned, not what actually got done, Murray said.
"The blueprint specifies what materials were [supposed to be] used, what the size of the rivets should be," Murray continued. "What the contractor actually did, you don't know until you see the bridge.
"That's why you send inspectors in," he said. "NCTQ isn't doing that last step."
Kati Haycock, president at the Education Trust, an organization that works to close educational disparities along socioeconomic lines, is a technical adviser on the Teacher Review Project.
She rebutted Murray's points about the blueprint analogy.
"If you have a great blueprint, it doesn't mean you'll follow through on every single piece of it," Haycock said. "But if you have a weak blueprint, you're not likely to be creating a strong building."
Haycock said there are "way too many" teacher prep programs to observe them all. There are 1400 traditional pre-service preparation programs throughout the nation, according to NCTQ.
The Teacher Prep Review is the "best doable version of this without spending hundreds of millions of dollars on it," Haycock said.
Haycock said the accreditation process has itself proven "completely unable" to assure quality in teacher preparation programs, which she said run the gamut of quality, from high-quality to "crappy."
"Those crappy teacher preparation programs continue to get accredited, so that doesn't work," Haycock said, although when pressed for an example of such a low quality program, Haycock could not cite an example.
Still, she said research has consistently shown that poor children and children of color often get the least effective teachers when their circumstances demand better.
NCTQ only plans to produce ratings for the 1,139 teacher prep programs that produce 99 percent of the nation's teachers. The project is not considering alternative teacher prep programs, such as Teach for America, in part because Teach for America does not have student teaching experience like traditional pre-service preparation programs do, McKee said.
"We need to start somewhere," McKee said. "Our idea now — it may change in the future — is to apply standards evenhandedly to all traditional teacher preparation programs, and we will develop standards that will apply eventually to alternative routes."
Not everyone is convinced that NCTQ's methodology will be applied in the evenhanded manner that McKee described.
Among the skeptics is Sharon Robinson, president and CEO at the American Association of Colleges for Teacher Education, who believes the NCTQ is out to trash university-based teacher prep programs.
She said examining course materials, some of which NCTQ has sued universities to obtain, represents a "very superficial" way to examine quality. Some schools might look worse simply because the syllabi obtained by NCTQ are not current.
She also said it is "not clear what the rubrics are" for the Teacher Prep Review.
"Once your syllabus is received, do they count the number of times that 'science of reading' shows up to determine if you're teaching the science of reading?" Robinson asked.
NCTQ has produced a list of indicators that elucidate what it takes for a program to get a "strong design" designation.
McKee said part of the hope behind the Teacher Prep Review is to enable prospective teachers to make informed decisions about which schools to attend and which to avoid.
But Murray of TEAC says the Teacher Prep Review is unlikely to have that effect, because most aspiring teachers are not mobile and tend to go to schools in the vicinity where they reside.
Some educators, however, welcome the Teacher Prep Review.
Among the supporters is retired Buffalo Public Schools Superintendent James Williams, who has recently worked as an adjunct in schools of education at Howard University and Trinity Washington University.
"The quality of the teachers coming out now is not up to the expectation of what we're trying to do in education," Williams said. "They're not being trained well."
Williams said he initially had concerns that the Teacher Prep Review would have a disparate impact on minority-serving institutions, or MSIs, but those concerns were allayed when he found out the project focuses on design, not how much a school spends on its program.
"It's not discriminating," Williams said. "It's asking the question: 'How do you teach reading?' 'How do you teach math?' 'How do you conduct your student teaching?'
"So the main thing with this [Teacher Prep Review] is to find out what colleges and universities are doing it the right way, because I think in reforming education, you have to reform the teachers first and then come into the schools."
The Teacher Prep Review is just one of several efforts in the works to rate teacher prep programs for their performance. In 2011, the Obama administration announced a proposal to identify and support effective preparation programs, and conversely, to weed out weak programs that don't improve. Federal regulations to enable the administration to carry out those objectives are said to be due out any day, although one policy consulting organization reported recently that insiders are skeptical that the regulations will be released in 2013.
Also, in late 2012, the Council of Chief State School Officers, or CCSSO, issued a call to action for states to reward exemplary programs and potentially shut down those that are deemed ineffective.