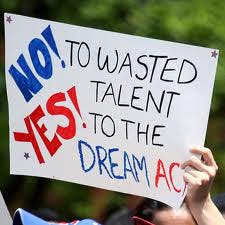 PHOENIX — President Barack Obama's decision last year to allow young people living in the U.S. illegally to stay and work marked the biggest shift in immigration policy in decades, hailed as a landmark step toward the American dream for a generation of immigrants.
But months later, many immigrants are having vastly different reactions to the change depending on where they live, and they aren't flocking to the program at the levels the government originally expected.
A handful of Republican-led states are blocking basic benefits for those in the program, denying beneficiaries identification cards, driver's licenses, health care, in-state tuition, student financial aid, college admission or other privileges typically afforded to legal residents.
Others have set out welcome signs for the immigrants, including 12 that grant resident tuition for immigrants who graduated from local high schools.
The number of immigrants who signed up for the program has been smaller than envisioned.
In the first eight months of the program, about 450,000 applications have been accepted. The government originally estimated that 1 million would enroll in the first year. Experts say the numbers have been surprisingly low in states with large immigrant populations like Florida, New Jersey and Arizona, where about 16,000 people have taken advantage of the program.
Enrolling in a college or a university a cornerstone of the new policy hasn't been easy either. With many states refusing to grant in-state tuition, immigrants who largely come from working-class families have to shell out upward of $40,000 a year to go to school with no financial aid.
"It's really hard that now you have all these doors that you feel are going to be open to you and the doors are still closed," said Reyna Avila, a Phoenix college student who received a work permit and Social Security card under the policy, but still cannot drive to work or school without risking criminal charges.
In Michigan, high school senior Javier Contreras and his family considered moving to Illinois until his state came up with a solution allowing him to get a driver's license. But because of his immigration status, he will have to pay the $20,000 for out-of-state tuition if he wants to attend his dream school, the University of Michigan.
Under the so-called Deferred Action for Childhood Arrivals program, more than 1 million immigrants are eligible for work permits good for two years with no limits on how many times they can be renewed. Qualified applicants must be 30 or younger, prove they arrived in the U.S. before they turned 16, have been living in the country at least five years and are in school or graduated or served in the military.
Immigrant advocates embraced the program when it was announced in June as a long-awaited, albeit temporary fix for young immigrants, many of whom were brought here as young children and grew up in America. Congress has failed for years to create a similar law in the form of the DREAM Act, so Obama bypassed the legislative process and implemented the change under the Department of Homeland Security.
Republican critics note the Obama policy was passed only after Congress failed multiple times to pass the DREAM Act and could soon be found unconstitutional in court because it extends legal rights to people who are not legally in the country.
"The Obama amnesty plan doesn't make them legally here," Arizona Gov. Jan Brewer said shortly after the program was unveiled.
The creation of the program set off a flurry of activity in statehouses, governor's offices and in the courts, giving young immigrants different impressions of the policy from state to state.
In Alabama, Florida, Idaho and dozens of other states, the young immigrants don't qualify for resident tuition or financial aid. South Carolina and Georgia won't let the students apply for admission to some public universities.
Republican leaders in Arizona and Nebraska refuse to grant the young people driver's licenses, though the vast majority of states allow those in the program to legally drive. In North Carolina, lawmakers briefly considered issuing licenses with bright pink stripes and the words "NO LAWFUL STATUS" on them. Until last month, immigrants benefiting from the policy couldn't get a state identification card in Michigan.
Some states have mixed policies, making it even more confusing for young people struggling to understand their new legal status. For example, in Arizona, some community colleges consider the immigrants lawful residents, but the state's public university system does not.
In some cases, the change has added to the climate of fear that is present in many communities. A complaint was filed with a Phoenix community college system this week alleging that staff members were asking students about their parents' immigration status.
A few states have embraced the immigrants. In Washington, the House of Representatives recently approved a measure making young immigrants eligible for state college financial aid. In Massachusetts, Gov. Deval Patrick announced in November that some children of immigrants living in the country illegally could attend public state colleges and universities at the in-state tuition rate, cutting costs by 50 percent or more.
Avila was reminded of what she was missing out on as an Arizona resident when she recently visited an aunt in Illinois who was able to obtain her driver's license because of the Obama policy.
"She was showing it off to the family and it was like a slap in the face to me," Avila recalled.
The lack of uniformity means young immigrants who move often for work or school experience shifting benefits.
Lucy Pinon is able to get a driver's license in Idaho, where she attends college, but she can't obtain an identification card in Arizona, where she has lived with her family since she was six years old. That means a relative has had to go with her and confirm that she is an Arizona resident when she applies for local jobs, she said.
"It's like, 'Oh you're documented, but you are still undocumented,'" she said. "When I'm in Idaho things are fine and dandy, but Arizona is my home state."
Civil rights advocates argue it's unconstitutional under the federal equal protection clause for states to extend benefits to some immigrants with work permits but not others. They have challenged the Arizona ban on driver's licenses in what is the first major legal battle over the policy change.
"The federal government without question gets to decide who is allowed to be in the country or not," said Michael Tan, staff attorney with the American Civil Liberties Union Immigrants' Rights Project. "It's not up to the states to make up their own rules."