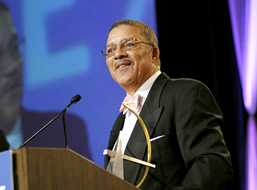 When veteran news executive Wanda Lloyd retired from daily newspaper work in 2012, she decided against leaving more than 40 years of experience on the shelf to gather dust. A few months after exiting her position as executive editor of the Montgomery Advertiser, Lloyd began her new role as chair of the mass communications department at Savannah State University in Georgia.
"I wanted a different and new challenge," says Lloyd, who also serves as an assistant professor. "I felt I could bring some knowledge and resources to the students and school [that they] may not have had access to" in the past.
Lloyd's transition from a ranking position in the newsroom to one in the classroom is just one example that is becoming increasingly common. These days, more seasoned journalists are finding their place in a community that has historically snubbed them — academia. Howard, Morgan State, Florida A&M, North Texas State, Hampton and Savannah State universities are leading the pack of institutions that have recruited seasoned journalists and news executives within the past year for positions in their departments of journalism and/or communication as deans or department chairs.
"The universities are beginning to realize great academics teach theory and great practitioners teach the how," says DeWayne Wickham, chair of the new School of Global Journalism and Communications at Morgan State. "The academic community is recognizing to be competitive, they have to be capable of helping these kinds [of students] become talented practitioners."
Learning from experience
Wickham says he has tried to form a faculty at the School of Global Journalism and Communications that possesses the skills and firepower from an industry that has changed dramatically since his days as a journalism student at the University of Maryland, where he got his start more than 30 years ago as state editor for The Diamondback, the independent student paper at the university.
"These are transformational times," says Dorothy Bland, new dean of the Frank and Sue Mayborn School of Journalism at the University of North Texas, located in Denton, a suburb of Dallas. "My sense is there is a critical need for talent that can translate the skill sets that are needed, creating and executing business plans, charting new partnerships and collaborative skills," she adds.
"[Our entire faculty has] substantial professional experience," Bland continues, explaining, "the role of a dean is to increasingly get out and raise funds. The days when a dean simply deals with the academic unit are gone."
Bland, who has an M.B.A. in marketing from George Washington University, has 25 years in the news business. She was a newspaper publisher in Colorado before spending time at Florida A&M University in its School of Communications and Graphic Arts. Though she lacks academic credentials, Bland echoed several colleagues, noting, sarcastically, "Bill Gates couldn't get a job at some of these schools" since he doesn't have a terminal degree.
Historically Black colleges and universities (HBCUs) have been resistant to the idea of putting seasoned professionals without terminal degrees in leadership roles in their journalism and communication programs, despite decades of this practice by some of the nation's top journalism schools, including the College of Journalism at the University of Maryland and the Graduate School of Journalism at Columbia University in New York.
The Southern Association of Colleges and Schools (SACS), the major accrediting agency for colleges and universities in the South, frowns upon institutions that place people without terminal degrees or have degrees in fields other than the ones they are teaching in top administrative and leadership positions.
The Association for Education in Journalism and Mass Communications — a nonprofit, educational association of journalism and mass communication educators, students and media professionals — has begun to take a more flexible position, noting, unofficially, that institutions are willing to carefully embrace persons without terminal degrees into leadership positions, which also helps with racial and ethnic diversity.
Since industry changes are occurring more frequently than academia can keep up with, institutions are starting to recognize that they need to bring in practitioners from the field so students can receive real-time professional skills and experiences that will help them compete for jobs after graduation.
Learning to adjust
Dr. Valerie White, chair of the Black College Communication Association — a not-for-profit organization that provides technical assistance to 40 communication programs for all HBCUs nationwide — and director of graduate students at the Florida A&M School of Journalism and Graphic Communication, sees the new trend with mixed views.
On one hand, the emergence of more seasoned news media professionals in academia reflects a decline in opportunities for seasoned people of color to ascend to higher ranks in the industry as employers search more for cheaper talent, explains White. At the same time, seasoned people with credentials "see an opportunity" to teach and mentor. White notes many professionals have been open to sharing what they have learned in the field with those who want to learn about it.
"We need them," says White, referring to her media colleagues.
She adds that the transition poses at least one immediate issue: "Who are we going to replace these professionals with?" she asks, noting that when professionals leave behind their advanced ranks in the industry to enter academia, those positions are usually not being filled with the generation after them.
For those who have made the transition into academia, the new assignments vary in many respects from the industry they left behind. First, professionals have to remember that they are dealing with students who are not prepared for the world ahead, unlike their former peers in the industry.
Wickham says he understands students may not be as experienced as his former newsroom peers. "That's why they are called students," he says.
He also understands many of his 400-plus students are in need of help to make the next step into adulthood and the world of work.
"So many of our students come to us with so little resources," Wickham says, adding his new program takes those realities into consideration, and staffing was designed to address those realities — from hiring an extra writing coach to developing a paid internship program.
Bland says she's already learning about the pace of academia. In her newspaper days, new ideas could be conceived, developed and executed in as few as 60 days, she recalls. In academia, known for protocol and bureaucracy, "the process sometimes takes longer," she says.
"Curriculum changes take longer," she adds as an example.
As for the rapid technical changes in journalism over the past generation — from film to memory cards, news teams to backpack journalists, typewriters to electronic keyboards, news feeds to blogs and texting — all in the new firepower generation say their agendas are still rooted in some reliable basics that span generations and trends.
"Writing and critical thinking skills still matter," says Bland.
Lloyd concurs. "My faculty feels the foundation of writing and editing is very important. We plan to raise the bar with students. This is not a retirement job."