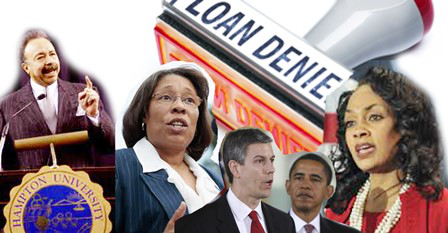 When advocates of higher education opportunities for racial minorities reflect on the 2013 academic landscape, their observations are more akin to describing a ride on a road with many bumps, surprising turns, only a few smooth straightaways and signs raising as many questions as providing clear answers about reaching the destination.
Congress and the White House, long considered reliable supporters and advocates, showed more signs of hostility and estrangement when it came to funding and policy. The federal courts issued decrees that ranged from neutral to positive on issues regarding equity and opportunity for minorities in higher education.
On the ground, more than a handful of institutions, particularly HBCUs, engaged in another head-spinning year of leadership changes, further weakening their abilities to carry out their missions.
At the same time, many institutions, especially those historically dependent upon state taxpayer support, saw more and more state legislatures slashing their funding of higher education, making it tougher and tougher for racial minorities and low-income students to pursue higher education.
"It's been bob-and-weave constantly," says Lezli Baskerville, president and chief executive officer of the National Association for Equal Opportunity in Higher Education (NAFEO), in assessing 2013. NAFEO is the principal advocacy association of presidents of HBCUs. "We found ourselves under attack from expected friends, but we also found some alliances" from unexpected corners, says Baskerville, echoing the sentiments of others.
A bumpy road
In interviews with higher education leaders and advocates across the country, the steady retreat of the federal government in its financial support of higher education for the masses was cited over and over again as having escalated to new heights in 2013 and was one of the greatest developments of the year.
The 5-percent across-the-board federal budget cut for fiscal year 2013-14 mandated by Congress and agreed to by President Obama was cited as the latest big blow in an emerging pattern. The budget sequestration hampered the economic recovery efforts of many individuals and institutions. It cost Howard University, alone, some $22 million in federal aid for the fiscal year, a funding gap not likely to be quickly closed by income from other sources.
The federal fiscal year 2013-14 budget cuts came on top of federally mandated cuts in funding for Pell grants for the summer, a cap on the amount of time a person can be eligible for Pell grant funds and continued refusal by the Department of Education to reverse its controversial new rules establishing tighter criteria for borrowing federal funds through the popular Parent PLUS loan (PPL) program.
This fall, Secretary of Education Arne Duncan publicly apologized to college presidents regarding implementation of the new PPL rules after thousands of students were unable to secure federal aid for the fall of 2013 through the PPL program.
"It's the perfect storm," says Johnny Taylor, president and chief executive officer of the Thurgood Marshall College Fund, a nonpartisan Washington-based organization that for years has raised millions of dollars in financial aid for minorities attending college. "Like [Hurricane] Katrina, this just won't go away," says Taylor, ticking off a list of examples of federal cuts through direct funding or policy and program changes.
"Our community is still trying to get itself together post-recession," says Taylor, asserting that the federal cuts add insult to injury when the lingering impact of the nation's recession on minorities is figured into the government's actions.
While the financial mettle of many institutions of higher learning is being tested like never before, so is the ability of institutions to find and keep top administrators. The surge of leadership changes in 2012 was matched in 2013 with turmoil in the front offices of numerous institutions.
Howard University lost its president after dissension among the university's board members over his leadership spread into a public discourse. Tuskegee University lost its relatively new president after a weekend board meeting. The departures of the presidents of Norfolk State University, Meharry Medical College, Morehouse School of Medicine and Stillman College were almost as abrupt and unceremonious.
The front office unrest and financial fragility of many HBCUs ensured that HBCUs as a group are headed for continued tough times in their hunts for stability, says several HBCU advocates.
"It's the year of unhealthy amounts of leadership change," says Taylor. He says the nation had reached an "unacceptably high turnover in leadership" in 2013 for HBCUs and hastens to add that, regretfully, he does not see the churn of leadership ebbing soon. "We're going to see more," he adds.
The battle for survival finally proved too tough for historic St. Paul's College, the small liberal arts college in rural Virginia. St. Paul's shut down last summer, a few weeks after the Southern Association of Colleges and Schools Commission on Colleges (SASCOC) decided to remove St. Paul's from membership in the accrediting group, effectively stripping it of accreditation.
For several years before the closing, alumni and friends of the 125-year-old institution had mounted a spirited fundraising effort to save St. Paul's, one of three historically Black colleges founded by the Episcopal Church. In the end, SACSCOC determined that the efforts were insufficient, and the accreditation revocation sent the declining enrollment of St. Paul's into a tailspin. A last-minute effort to salvage St. Paul's by merging it into St. Augustine's University, another small Episcopal Church-founded liberal arts institution in Raleigh, N.C., fell apart, as St. Augustine's leadership determined the financial risk was too great.
The closure of St. Paul's came as HBCU leaders were still vividly remembering the ugly decline and eventual closure of Morris Brown College in Atlanta and pondering the likelihood of survival of several other peer institutions fighting for their lives, including Knoxville College in Tennessee and Barber-Scotia College in North Carolina.
Numerous institutions made appeals for alumni to give more, as government appropriations and gifts by major traditional donors declined. There were notable instances of positive responses to emergency calls at several institutions, including Tennessee State, Howard and South Carolina State universities. Overall, however, appeals for alumni to replace the funds being lost were largely ignored. Many alumni were still struggling personally to recover from their losses during the nation's economic downturn and tepid recovery. Otherwise, most institutions, with no history of generous alumni support, were still searching for the message needed to motivate alums to give.
Surprising turns
In the weeks leading up to its early July decision, speculation ran the gamut on how the United States Supreme Court would rule in the high-profile Texas court case challenging affirmative action policies in higher education, specifically the affirmative action admissions policy of the University of Texas.
In the closely watched case of Abigail Fisher v. University of Texas at Austin, the high court decided the moment was not right for decisive action in any direction. It voted 7-1 to let the Texas practice stand. At the same time, the high court sent the Fisher case back to the Fifth Circuit Court of Appeals for review, with orders to the appeals court that it apply the high legal standard known as strict scrutiny in reviewing whether the university's recruitment and admissions policy meets current legal requirements of being race-neutral.
The Supreme Court also signaled in October it intended to play an active role in dealing with affirmative action and diversity efforts at the state level. The court said it would hear a Michigan case asking it to decide whether state laws banning affirmative action, approved by voter referendum, violate the Constitution.
Voters in Michigan and half a dozen other states have approved such laws banning affirmative action policies in state-controlled enterprises, including colleges and state agency hiring. A decision on the question by the high court is expected by the end of its 2014 term.
Separately, advocates for HBCUs saw a glimmer of hope in their continuing efforts to help HBCUs survive in the post-segregation era. A federal judge in Maryland ruled that the state of Maryland was allowing a dual system of higher education to continue existing by allowing historically White colleges, many of them established long after a nearby HBCU had been established, to offer duplicate programs. The judge ordered the state to a mediation process, one that could dramatically overhaul the higher education landscape in Maryland by reassigning high-demand academic programs.
For several years, Maryland has been growing its higher education offerings by opening new institutions and expanding the offerings of existing ones. The multi-pronged approach has supported efforts to improve the physical plants and expand academic programs at institutions where enrollment historically was determined by race.
As post-segregation-era changes evolved, historically White state-controlled institutions improved their physical plants and expanded their academic offerings in patterns that made it close to impossible for their historically Black college peers to compete.
While the judge did not order any budget relief in the Maryland case, her detailed finding and order focused on program duplication and ordered that major work be done to eliminate it.
A classic example of this pattern, often cited, was the rapid rise of Towson State University. Towson flourished in the years following segregation, allegedly at the expense of neighboring institutions such as Morgan State and Coppin State universities.
The Maryland case has been closely watched in other states where "dual systems" of higher education existed in the days of racial segregation and continued in some form in post-segregation years.
Smooth straightaways
Efforts to help young Hispanics, who were born and/or raised in America through no action of their own, continued to gain steam in 2013.
The pros and cons of various versions of the DREAM (Development, Relief, and Education for Alien Minors) Act continued to linger in Congress and be debated in state legislatures and at state ballot boxes. President Obama reiterated in speeches in California in late November that congressional action on immigration legislation, of which the DREAM Act would be considered a part, is still urgently needed.
Meanwhile, California took another small step in 2013 as a new financial aid eligibility law (AB130) took effect on January 1.
Puzzling signs
President Obama struck many in higher education by surprise this summer when the White House announced he was proposing an "ambitious new agenda" to "combat" the rising cost of college and make it "more affordable." The centerpiece of the agenda is a new plan to "measure college performance," the White House said. The new ratings system would also help Congress "tie" federal aid to college "performance."
Whether the president's plan will draw from the controversial performance measures increasingly advancing in several states was unclear as the details of the plan unfolded. Still, the bold idea prompted considerable discussion at higher education meetings throughout the nation since the plan was announced in August 2013.
The White House said the Department of Education would develop the new ratings system, with a target of 2015 for it to be available for prospective students to use in comparing colleges.
"These ratings will compare colleges with similar missions and identify colleges that do the most to help students from disadvantaged backgrounds as well as colleges that are improving their performance," the White House announcement stated. According to the White House, public hearings would be held around the nation to gather public input on what the ratings system should offer.
"How it could be uniformly applied and have a rating system that is nimble enough to recognize the uniqueness of each institution" is a question being widely asked, says Dr. Kim Bobby, director of the inclusive excellence group at the American Council on Education. "A lot of people are waiting and wondering how it's going to be applied," says Bobby. "People are hoping it will be done carefully and will be done thoughtfully."