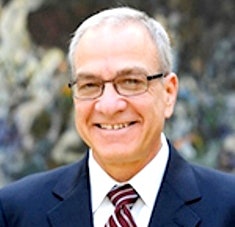 Under a new, Harvard-trained dean of science and mathematics, the University of Massachusetts Boston set out to increase the number and diversity of students enrolled in STEM.
Seven years later, Boston's only public university has achieved both goals, despite competition from MIT, Harvard and other private universities that fuel the growing technology sector of the area's economy. Enrollment in the College of Mathematics and Science at UMass Boston has nearly doubled and, at the same time, become majority-minority. About 56 percent of the students are of color, with 35 percent enrollment from minorities who are underrepresented in STEM.
"We have the most diverse college at UMass Boston, which is not that typical for STEM. We have all kinds of diversity," says Dr. Andrew Grosovsky, dean of the College of Mathematics and Science. "Half of our students are women, which is a huge thing for STEM. We have a lot of language diversity, a tremendous amount of first-generation [students] and economically disadvantaged folks."
In 2010, Forbes rated the best colleges for underrepresented minorities in STEM, based on whether student diversity in those fields matched the school's overall enrollment. Of the 20 schools that made the list, two are comparable to UMass Boston — the University of Massachusetts Lowell and Georgia Southern University.
Today, in comparison, UMass Boston would break into the top 20 because its enrollment of underrepresented minorities in STEM slightly exceeds 32 percent of the entire student body.
But Grosovsky says he knows that bringing students of color into STEM is not enough — seeing them graduate is what matters. On that measure, UMass Boston also appears to be making progress.
About 40 percent of those STEM freshmen who entered in 2009 benefited from new academic support services and graduated after four years, nearly all in STEM fields — a degree completion rate comparable to the national level. Grosovsky estimates a
similar proportion of underrepresented minorities in that group completed their degrees.
From tracking credit hours and grades, Grosovsky says he expects graduation rates in upcoming years to rise above 50 percent, reflecting the increased number of students who received academic support in successive freshman classes.
Both Chancellor J. Keith Motley and Grosovsky say the effort is off to a good start, but acknowledge that boosting STEM diversity on commencement day remains a work in progress.
"It's exciting. We're still writing the story," Motley says. "We're on chapter one."
Freshman communities
Since arriving from the University of California, Riverside in 2007, Grosovsky has launched a number of initiatives to improve student outcomes and diversity in the College of Science and Mathematics.
One of those initiatives includes "Freshman Success Communities," which groups together two dozen students with the same major in their first-year courses and lab sections. The communities reflect the college's diversity. A professor advises each community and instructs members in a science seminar that freshmen are required to take.
The communities, which other colleges have used, are academic support groups that better connect their members to a commuter school that has many older, working students who spend little time on campus outside of class. Grosovsky compares the role of the communities to undergraduate houses at Harvard, where he earned his doctorate in biology.
"We had to create a greater sense of engagement and belonging," the dean explains. "We wanted them to engage with other students, faculty, advisors [and] academic support staff. We wanted them to feel this is their university, [that] they know people [and] can feel comfortable as part of this community."
The college started with two communities and gradually expanded to 13; now, more than half of the current freshman class belongs to a community. Student retention into a second year, a key milestone en route to graduation, has gone up.
"Students are staying here because they're supporting each other," says Motley. "They're getting support 'round the clock with each other, with the social media that they use [and] the studying together that they're doing with the faculty members."
Funding to support the communities has come from the university, local businesses like biotech company Genzyme and the National Science Foundation through the Louis Stokes Alliance for Minority Participation in STEM.
The college has forged partnerships with local tech companies and the Dana-Farber Cancer Institute to provide students with internships and research assistantships. Those opportunities and the college's diversity have given UMass Boston an advantage in recruiting in-state students.
Melissa Cruz, a junior interested in biomedical research, was previously enrolled at UMass campuses in Amherst and Lowell, her hometown, before transferring to UMass Boston.
"The reason I chose UMass Boston is because I felt there was a greater opportunity to be involved in research as an undergrad, and there was also a greater diversity, both in [the] student body and also in the faculty," says Cruz, 22.
To improve retention, the college identifies courses where students often struggle and then assigns paid tutors to those classes, which include Calculus, Introduction to Biology and General Chemistry. Struggling students can contact the tutors or undergraduates who excelled in those classes, or professors can make referrals.
"We don't wait for the students to ask for advising," Grosovsky says. "We basically recognize when they'll need advising and bring it out to them before they even know they need it.
"We do the same thing with academic support, which is available to everybody," he adds.
Gifty Addae, a junior double majoring in biochemistry and anthropology, has benefited from the academic initiatives. She was in a freshman community that Grosovky led and completed a summer internship in Dana-Farber's lab. Currently, she is a tutor in a General Chemistry class.
Addae, whose family roots are in Ghana and South Africa, moved to the U.S. from Switzerland to attend college. She says she considered Yale and Tufts, but found the private universities too expensive. UMass Boston was an affordable choice.
Since being one of 15 minority students in a selective internship at the Cornell Medical School last summer, Addae says she has come to believe that the quality of STEM education at UMass Boston rivals that of pricier universities.
"After I interacted with my colleagues, I sort of realized that I could hold my own with them," Addae says. "The education that I have on campus is comparable to [that of] people who are coming from anywhere, places conventional people will think are better schools, if not the best schools."
Better tracking
To move beyond student feedback to a conclusion backed by data, UMass Boston has to continue improving its overall graduation rate in STEM — the standard most commonly used in higher education — not just the growing number of students who
have been in freshman communities.
Grosovsky says he believes the College of Science and Mathematics is on that track. Another issue may be the need to track students from underrepresented minorities better. He was unable to answer specific questions about their academic progress.
Furthermore, UMass Boston has not broken down data to document that the diversity in STEM enrollment does indeed lead to diversity at graduation. Grosovsky says he embraces the challenge.
"If we enroll students who are diverse, and we can't have them complete their program and be successful, then what's the good of the diversity of our enrollment?" notes Grosovsky. "That's really what the difference is.
"We've got a long way to go," he adds, "but I think we've made a lot of progress."
Editor's Note: Kenneth J. Cooper is the part-time editor of the Trotter Review at UMass Boston.