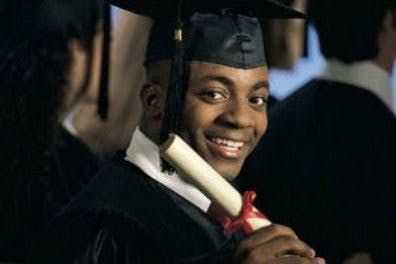 Invoking the "Black Lives Matter" mantra borne through last year's protests over police killings of Black men, the Schott Foundation for Public Education is releasing a report today that decries a "widened" gap between the high school graduation rates for Black males and White males.
The report, which provides a state-by-state breakdown of Black male graduation rates, should serve as a "barometer for where the country is at the moment," said Pedro A. Noguera, an education professor and executive director of the Metropolitan Center at NYU.
And while high school graduation rates have increased overall, disparities have intensified, said Noguera, who suggested a need to look "beyond the data" and search for other factors that might be contributing to educational disparities along lines of race and ethnicity.
"It's particularly important that we not simply look at the data but when we look at the data ask: Why is it that certain places like Montgomery County [in Maryland] have made so much progress and other places are lagging so far behind?" Noguera said.
The report—formally titled "BLACK LIVES MATTER: The Schott 50 State Report on Public Education and Black Males"—found that, at the national level, estimates for the 2012-13 school year indicate a national graduation rate of 59 percent for Black males, 65 percent for Latino males and 80 percent for White males.
"Since the Schott Foundation's last report, the four-year Black male graduation rate has increased by seven percentage points, yet the graduation gap between Black and White males has widened, increasing from 19 percentage points in school year 2009-10 to 21 percentage points in 2012-13," the report states.
In a conference call Tuesday, some journalists took the Schott Foundation to task on its figures and claims.
For instance, the new Schott Foundation report purports that, among large urban school districts, Philadelphia has one of the lowest Black male graduation rates in the nation at 24 percent.
However, the Philadelphia Public School Notebook has published data that show the Black male graduation rate is more than twice as high as it is portrayed to be in the Schott report.
"Our organization and District have been monitoring the graduation rate annually and find that the four-year cohort graduation rate for Black males in the District has been in the mid-50's for the past three years, for the classes of 2011, 2012, and 2013," wrote Philadelphia Public School Notebook writer Shannon Nolan in an e-mail in which she provided a link to the Notebook's published report.
The Schott report acknowledges that it uses "estimates" and "moving averages" to calculate what it believes graduation rates are in given locales.
Diverse engaged Noguera in a conversation about whether school districts such as Montgomery County in Maryland, which the report says has the largest 2011-12 estimated Black male graduation rate in the country at 74 percent, actually deserve credit given the fact that the district has a high proportion of families of economic means, which is correlated with higher academic achievement.
Conversely, Diverse asked whether school districts such as Detroit, which the report says has the lowest Black male graduation rate in the country at 20 percent, deserve blame given the fact that Detroit has higher proportions of children in poverty, which is correlated with lower academic achievement.
Noguera acknowledged that Montgomery County has significant wealth but said it also has a disproportionate number of African-Americans and Latino families at or below poverty.
"So I think it would be a mistake to just see Montgomery County as an affluent district," Noguera said. "That being said I would say that it is one of the few districts in the country that's actually been making steady progress over the last several years in reducing academic disparities," Noguera said. "And this has been pretty well documented."
Census data show that the percentage of African-Americans and Hispanics below the poverty level in Montgomery County is 11.5 and 11.4 percent, respectively.
In Detroit, however, poverty is much more widespread. Specifically, census data show that 38.9 and 40.5 percent of African-Americans and Hispanics, respectively, live below the poverty level.
"Detroit on the other hand is a district and a city that's been in a free fall. You've had an ongoing departure of families, particularly middle and working class families from the city, and so it's not surprising that they would be in such poor shape," Nogeura said.
"I would also add that the schools there have been getting shut down," Noguera said. "So in some ways, the low graduation rates in Detroit are a reflection of larger problems facing the city and the schools."
Jamaal Abdul-Alim can be reached at dcwriter360 at yahoo dot com. Or you can follow him on Twitter @dcwriter360