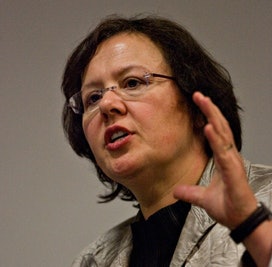 A new Modern Language Association (MLA) report shows a 6.7 percent decrease in total language enrollments on U.S. college campuses since the last survey in 2009.
Yet the overall drop in language enrollments is not cause for dismay, said Rosemary G. Feal, executive director of the MLA. She pointed out that, compared to historic trends, language enrollments have shown an upward trajectory since the mid-1980s. In fact, the numbers are slightly higher now than they were in a 2006 MLA survey. Viewed in that light, this year's overall decline might be seen merely as a "blip" in an overall positive trend.
"Even though we have been seeing a decline, and we are concerned about that, we're also aware that, looking just a few years back, these enrollment figures are very much in keeping with the highs that we've reached," Feal said.
The MLA has been tracking enrollment numbers in its Language Enrollment Database since 1958, which offers a precise and easily accessible accounting of enrollment numbers by institution and year. This is the first report out since the recession.
Contracting enrollments in general humanities have not helped the situation; nor have vocational pressures on students to seek high-paying career track majors; or institutional disinvestment in language programs.
"We've known that there have been both budgetary and programmatic issues on campuses that have presented challenges to language programs," Feal said.
While some institutions may be reducing their language programs from a major to a minor, or scrapping them altogether, this is not universal. The study found that other campuses are creating programs in more diverse and less Eurocentric languages such as Korean, Portuguese, and Chinese. Some HBCUs, for example, such as Morehouse and Spelman, have been developing Chinese language and cultural programs.
Feal said that the growing diversity of languages offered on campuses was "wonderfully encouraging." Korean and Portuguese saw enrollments spike by 44 and 10 percent, respectively. American Sign Language was up by 19 percent, displacing German for third on the list in terms of the sheer number of enrollments. Chinese enrollments grew by 2 percent, suggesting that interest in Chinese may be leveling off since its rapid ascent in popularity, which began in 2002.
While students may be motivated to choose these languages in part for the economic or political power their home countries hold, Feal said that cultural interests also win some students over. "Korea's cultural production in the form of films, TV shows, music, and so on have caught the imagination of a lot of people and I think that students enjoy studying the language of cultures they are interested in," Feal said.
In other words, do not underestimate the allure of K-pop and PSY.
Enrollments in the traditional linguistic standbys of French, Spanish and German were all down, although 790,756 students still chose Spanish, many more than all other languages combined. The study found that half of the drop in Spanish was at the two-year college level.
Feal acknowledged that one reason for the decline might be that students feel pressured to find a well paying job after graduation, particularly in light of the major debt some incur to attend college. According to the current national narrative, those jobs tend to lie in the STEM sector. But in reality, Feal said, employers are still looking for the kinds of skills that students in the humanities develop, such as critical thinking.
"It's a fallacy when people say, 'we shouldn't study the humanities, we should study something that will get us a job,' when the qualities, skills and knowledge that come through studying the humanities are actually what employers say they want—which are people that write well; communicate well orally; can analyze, summarize, and present findings; can do research; and attend work in a setting of different cultures, with different people and groups," Feal said. "These are things that humanities students excel at."
Catherine Morris can be reached at cmorris@diverseeducation.com.