WASHINGTON — The focus used to be on a lack of minority representation in higher education. Now it has expanded to include a focus on the dearth of socioeconomic diversity.
Some would contend that the one is a proxy for the other, and that by opening the door to more students from lower-income families, problems of diversity would be solved. While that would no doubt be a start, as several panels at the American Council on Education (ACE) conference suggested, there is no easy fix when it comes to ensuring access to higher education for underrepresented minorities. Simply providing need-based financial aid alone may not be enough when certain admissions criteria may prevent underrepresented minorities from accessing that aid.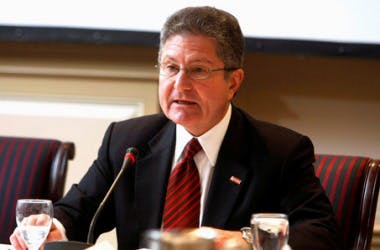 Panelist Dr. Richard L. McCormick said that he saw the negative effects of forbidding affirmative action play out in Washington state during his tenure as president of the University of Washington. One historic means of ensuring full racial representation has been affirmative action policies. But as speakers at a panel on Monday showed, the slow reversal of affirmative action in some states has forced universities to resort to alternatives that may not be as effective as the original policy.
So far, eight states have reversed affirmative action. Michigan was the most recent state to forbid it, in 2014, and some fear that Texas may follow suit, due to a series of lawsuits filed by Abigail Fisher and her legal counsel against The University of Texas at Austin.
"We are an extremely segregated country. We're more segregated than we've been for 40 years, in our elementary and secondary schools," said Dr. Gary Orfield, distinguished research professor of education, law, political science and urban planning at the University of California, Los Angeles School of Law. Orfield is also the co-director of the Civil Rights Project.
UCLA's Civil Rights Project is collaborating with Pearson, Inc., and ACE's Center for Research and Strategy to produce a report that will look at admissions and enrollment management practices in the "post-Fisher era," to be published in July 2015.
Panelist Dr. Richard L. McCormick, president emeritus of Rutgers University, said that he saw the effects of forbidding affirmative action play out in Washington state, during his tenure as president of the University of Washington from 1995 to 2002. He was there just in time for the state to adopt Initiative 200 in 1998, which disallowed the university from using race as a plus factor in admissions.
"Just as we had anticipated, the results for diversity were bad," McCormick said. Within a year, the number of underrepresented minorities in classrooms dropped. According to McCormick, under affirmative action, 1 in 11 students at UW were an underrepresented minority. After 1998, the ratio went to 1 in 18. But rather than simply accept that as the new status quo, the university took action.
"We set about, collaboratively, with members of the board of regents, deans, alumni and students to undertake a multipronged strategy to turn that around and in the period of about five years, at the end of which I was no longer at the University of Washington, the university had succeeded," McCormick said.
Their strategy employed what McCormick called "surrogates" for diversity — such as targeting outreach to geographic areas where many Hispanics, African-Americans and Native Americans lived and changing admissions processes to add a section for students to share their experiences with diversity and adversity. These practices could equally apply to White students. The university also found funds, raised and administered privately, that could legally be used as scholarships and financial aid for students of color.
Although the university returned to the similar levels of diversity it enjoyed prior to the passage of Initiative 200, McCormick noted that African-Americans did not regain their previous representation.
While targeting outreach to certain schools and districts does add diversity to institutions of higher education, that alone does not ensure full representation, panelists cautioned.
"I think we have to be really careful about our use of proxy, because one of the consequences of the proxy is that we create a very wealthy population on the one hand that happens naturally, and it could be a very poor population on the other. The middle-income students and the middle class gets left out of that process," said Kedra Ishop, associate vice president for enrollment management at the University of Michigan.
Staff writer Catherine Morris can be reached at cmorris@diverseeducation.com.