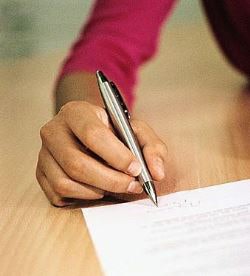 It's the height of summer, and some would-be college students are starting to fade in the searing heat of bureaucratic blockades.
Their college plans may melt away entirely by the end of summer. Up to 40 percent of low-income students who are accepted to college in the spring never make it to the first day of class in the fall. They're stymied by tuition sticker shock, Kafkaesque paperwork requirements and a quiet, corrosive feeling that they don't belong.
This summer, about three dozen college students are reaching back to students at their old New York City high schools to see if they can help the recent graduates navigate the labyrinth and stay calm and cool enough to avoid the melt.
Each of the college students, who are being trained by College Access: Research and Action (CARA), has a caseload of about 75 high school graduates. The college students, or "coaches," are paid and spend 15 hours a week working with the recent grads, who are exactly where they themselves were just a year or two ago—accepted and aiming to go to college, but with some treacherous months ahead.
Financial issues are often central to why a student begins to give up.
Like many of the recent grads she is coaching, Raymi Echavarria, who will be a junior at Hunter College this fall, was the first in her family to go to college.
"My students have never seen anyone go to college and take out all of these loans," said Echavarria, 20. "They've never seen anybody take out the amount of loans they're taking out. Sometimes that's really scary."
For many young people, there is a steep learning curve. One student thought that a "subsidized government loan" was the same thing as a grant, which doesn't have to be paid back. When she and her family learned that they would be thousands of dollars in debt, they decided they couldn't afford college.
Another student missed the deadline to get into the dorms at a State University of New York college. Her parents decided that it was both unsafe and too expensive to live off campus in an apartment. She and her coach are now working to get admission to the City University of New York, so she can live at home.
In yet another case, a student won a full scholarship to a private university, but then her family received a $1,400 bill for health insurance that they couldn't pay.
And a student headed to a public college received a bill for $4,000 because his federal loan hadn't arrived on time. He believed he wouldn't be able to attend, but the coach is trying to track down the payment so the student can enroll.
Echavarria and the other coaches, who are part of CARA's College Bridge program, come together several times during the summer to discuss their students' struggles.
Some obstacles are purely bureaucratic, but they can still intimidate students and their families who are unfamiliar with the process, the coaches say.
Many colleges require an immunization form, and students mistakenly believe they need a doctor's appointment to get one. These are usually on file in their high school.
Students who want to receive financial aid must file a Free Application for Federal Student Aid (FAFSA) form. That process is infamously complicated to begin with, but, in addition, about one-third of students who file a FAFSA are selected for "verification," which can require a parent's tax returns, proof of income and legal residency. Some students' parents are uncomfortable sharing private information.
Sometimes college officials are not properly informed. One undocumented student reported to her coach that she needed proof of U.S. residency to register at CUNY. The coach went with her to the admissions office to clarify that only proof of New York City residency was required.
In another case, a student accepted to York College at CUNY had been told he needed to take a placement exam for math. He failed it, and York was denying him entrance until he completed a remedial course at a community college. But his high Regents score should have exempted him from remediation. The coach helped the student locate his transcript and win an appeal from York so that he could enroll.
Cheyanne Smith, who will be a sophomore at SUNY Buffalo in the fall, says she can identify with her students' up and downs.
"I originally wanted to attend Spelman College in Atlanta, but I couldn't afford it, so I ended up going to Buffalo," said Smith, 18. "It was a heartbreaking experience."
This summer she was denied a work-study placement, even though she'd had one her freshman year and needs the income. She is reapplying, but if she's denied again, she will need to find work off campus at a supermarket or a fast-food restaurant.
"I'm ready for anything, though," said Smith, who graduated from Bushwick School for Social Justice last year.
That's the kind of tenacity the staff at CARA hopes the college students can translate to those just a few years younger than themselves.
The peer-to-peer model is central to the program's philosophy, and not only because the young people have had similar experiences and can communicate more easily with one another, especially via text and Instagram.
"They become experts and leaders in their communities—they can help their cousins, or neighbors, which moves beyond the parameters of our program," said Janice Bloom, co-director of CARA.
Bloom is working with CUNY's Office of Research, Evaluation and Program Support and the city Education Department to analyze data on the program's impact, which she hopes could help it spread to more schools.
In the past several years, participating public high schools have paid alumni coaches a $2,500 stipend to work approximately 60 hours in the fall and 15 hours per week over the summer. Starting this fall, 10 to 15 schools will begin paying these alums $6,000 per year to work year-round (10 hours a week during the school year and 15 hours a week during the summer) with their seniors. CARA must raise private funds to provide the training and support for the coaches and their supervisors.
Although college enrollment data is not yet available, the percentage of students in last year's program whose immunization records were sent to their colleges increased to 68 percent by the end of the summer from 25 percent in early July. And 79 percent had scheduled or taken a required placement exam, up from 59 percent. Most hopefully, 86 percent of the students had formally accepted an admissions offer and sent in the required deposit by August.
Maggie Acosta, who will be a senior at City College this fall, has two students who were panicking in July because their colleges told them they weren't eligible for the state's Tuition Assistance Program. Acosta found out that their grant files had the wrong college codes, so the schools mistakenly thought they weren't eligible.
Acosta says she understands that feeling of frustration and demoralization. When she transferred to City College from York College two years ago, York thought she was still taking classes there. They sent her a bill for $3,000 and it took her a year and a half to get the situation resolved. She had to physically find the two teachers whose classes she had never attended to sign documentation, even though their attendance logs showed her never having shown up. In addition, she needed a supervisor's signature, and it wasn't until she called constituent help at her local City Councilmember's office that the problem was finally fixed.
"That's why I sympathize with my students when they panic," said Acosta, 22, who graduated from Cypress Hills Collegiate Preparatory High School. "We might know it's going to be OK, but we need to understand their feelings and make sure they know they can make it."