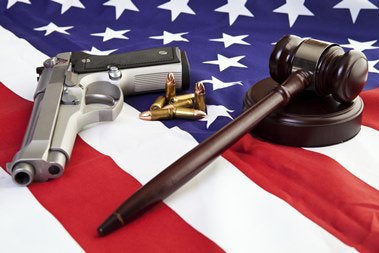 In the wake of the gun massacre in Orlando that left 49 people dead, several civil rights and labor organizations are calling for a massive march in the nation's capital later this summer to call attention to the issue of gun control.
The Rev. Al Sharpton is spearheading the march on August 27 in Washington, D.C., to coincide with the 53rd anniversary of the historic March on Washington that was led by Dr. Martin Luther King Jr., A. Philip Randolph and others. The organizers will press legislators to ban assault rifles and to implement additional measures for background checks on those purchasing firearms.
The issue will certainly become a major issue in this year's presidential election, particularly in light of the spate of mass shootings in San Bernardino, Charleston, and Newton, Connecticut.
"For us not to be able to respond to gun legislation is atrocious," says Sharpton, who has pledged to bring together the civil rights, immigrant, LGBTQ, and Muslim communities as a unified front to take on this issue. "The face of civil rights today is multiracial, and we have to deal with the issue of gun violence," says Sharpton.  
As plans for a national march and rally move forward, Democrats in the U.S. House of Representatives instituted a sit-in on the floor of the Capitol last week and urged Republicans to move swiftly to enact sweeping legislation.
"Sometimes you have to violate a rule, a law, to uphold a greater law, a moral law," said Rep. John Lewis (D-Ga.) who led the planned sit-ins. "We have a right to sit down or sit in to engage in nonviolent protest. It is always right to do right."
Legislation proposed last week by both Republicans and Democrats, including a bill sponsored by Sen. Diane Feinstein (D-Calif.) that would  allow the U.S. Attorney General to deny a gun sale to anyone if there is a "reasonable belief"—a lesser standard than "probable cause"—that the buyer was likely to engage in terrorism, was killed on the Senate floor.
Experts say that the issue of gun violence will only become a more contentious issue as state legislatures across the nation green-light individuals to carry guns on college campuses.
Last month, Tennessee Gov. Bill Haslam allowed a controversial guns-on-campus bill to become law without his signature.
The bill allows full-time faculty, staff and other employees of Tennessee's public colleges and universities who have handgun-carry permits to carry their guns on campus. The decision has been met with student protests.
"I am letting SB 2376 become law without my signature. I have long stated a preference for systems and institutions to be able to make their own decisions regarding security issues on campus, and I again expressed this concern throughout the legislative process this year," Haslam said in a statement. "Although SB 2376 does not go as far as I would like in retaining campus control, the final version of the bill included input from higher education and was shaped to accommodate some of their concerns."
Jamal Eric Watson can be reached at jwatson1@diverseeducation.com. You can follow him on @jamalericwatson