Dr. Mildred García, who has led California State University Fullerton for the past five years, is leaving her post to become president of the American Association of State Colleges and Universities, or AASCU, making her the first Latina in higher education to hold that position.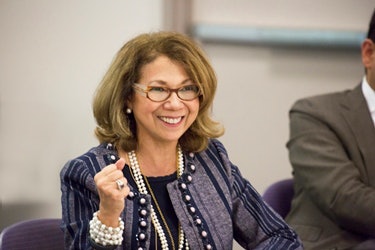 García, who was a first-generation college student, hopes to place an emphasis on diversity and inclusion to her new role. She said that her presidency will begin in January with a listening tour where she will visit with various board members and presidents from AASCU's 400 member institutions.
"I understand in many ways what it means to walk in, not only as a first-generation student, but also as a woman of color who is an 'other'," she said in an interview with Diverse. She added that she encountered these obstacles not only as a student but as a faculty member and an administrator. "The struggles and the challenges, I've been through it."
García will leave behind a legacy of raising graduation rates by 65 percent for first-time freshmen at Cal State Fullerton. Fundraising has also seen dramatic successes during her tenure at Fullerton, where annual commitments have gone from $8.5 million to $22 million. She said she will dearly miss the community at the California university.
"Our students are completely diverse: a majority of first-generation and low-income," she said. "They move on to do great things."
García, herself, has experience across higher education. She studied at New York City Community College and completed her undergraduate degree in business education at Baruch College. She went on to earn graduate degrees in Higher Education from New York University and Columbia University. She has been president at California State University Dominguez Hills and the CEO of Berkeley College.
García said that although she will miss working with the diverse student body and the faculty at Fullerton, she ultimately decided to assume the presidency at AASCU to expand the reach of her work.
"Think about 400 institutions that are doing this across the country, and the impact that we have in being able to serve and advocate for all of these institutions," she said, describing her appointment as an "amazing and humbling opportunity" in being able to work alongside institutions that are preparing students "not only to be professionals but engaged citizens in a diverse society."