A federal judge in California on Tuesday ruled against the Trump administration's repeal of the Deferred Action for Childhood Arrivals, or DACA. On the same day, the White House hosted a televised bipartisan roundtable to negotiate legal protections for DACA recipients.
As the debate over the Obama-era immigration policy continues, U.S. District Judge William Alsup's injunction allowing DACA recipients to renew their status was a huge victory for undocumented immigrants. Experts and attorneys working with DACA recipients and their families remain vigilant.
"We receive lots of questions when things like this happen," said Rachel Ray, a managing attorney at the University of California Immigrant Legal Services Center, which provides services to UC students and their families. She said that her office is still awaiting guidance from the Department of Homeland Security, which is required by the injunction to post public guidance about the applications for renewal.
"In terms of where they stand, I think this is good news for many DACA recipients," she added.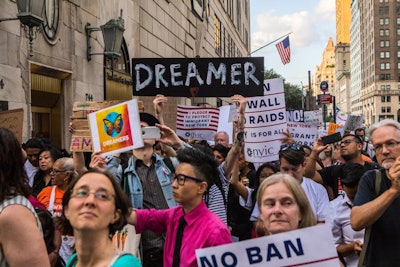 As of now, the DACA program will continue to operate as it did before Trump's order in September, which barred applications for renewal after October 5th and relayed responsibility to Congress to pass a replacement before the nearly 700,000 young individuals become susceptible to deportation in early March.
Several states immediately challenged Trump's order through various lawsuits, one of which was spearheaded by California Attorney General Xavier Becerra to support the high number of DACA recipients residing in the state. The California State University and the University of California systems currently serve approximately 72,000 undocumented students in California's public college system.
"In terms of current policy context and what the future might look like for DACA recipients, there have definitely been signs of progress," said Dr. Emily Crawford-Rossi, an assistant professor at the University of Missouri's College of Education. That said, she fears retaliation from what she described as a "reactionary" White House.
The bipartisan roundtable hosted on Tuesday by the president failed to assuage these concerns, as many questions about the future of undocumented immigrants remained unanswered. In his eagerness for compromise, Trump revealed his malleability as he offered conciliatory remarks to Democratic Senator Dianne Feinstein only to be tempered by House Majority Leader Kevin McCarthy interjections about Republicans' concerns about border security.
"I think the Trump administration's position has really wavered," Crawford-Rossi said. "We get such a mixed message of whether or not there is support for DACA recipients."
Crawford-Rossi said she has been encouraged by the other legislation, like the DREAM Act first introduced by Senators Dick Durbin and Orrin Hatch in 2001, that might replace DACA if it is in fact repealed. She hopes Tuesday's injunction will provide further momentum to past activism.
"I just think it's amazing how these young people have been so brave and so resilient in advocating for policy change," said Crawford-Rossi, who studies the intersections of immigration policy and PK-12 education. She added that more teachers and administrators need to support and earn the trust of undocumented students and their parents. "Given the uncertainty of this time, I think it's important for PK-12 educators understand why this particular context can be a particularly frightening one."
Despite the significance of Tuesday's ruling, Ray said it's difficult to design a specific plan for working with undocumented students without further details from the federal government.
"This is a big decision that will probably affect thousands and thousands of people," she said. "My hope is that it will benefit as many people as possible."
Joseph Hong can be reached at jhong@diverseeducation.com. You can follow him on Twitter @jjshong5.