The Western Interstate Commission for Higher Education, or WICHE, has launched a new collaboration of Native-Serving Institutions that is hoped to benefit more than five million people in the country who identify as Native American.
Funded by the Lumina Foundation, an Indiana higher education nonprofit, the initiative was officially launched in December. It is part of a three-year, $990,000 grant that will help cultivate a network within the 26 colleges and universities that have at least 10 percent Native students in their student populations.
"What we want to do is help institutions that are currently serving a high percentage of Native students and help them improve their outcomes," said Joe Garcia, president of WICHE. "One of the biggest gaps exists between Native and non-Native students, where we see lower enrollment and certainly lower retention and graduation rates."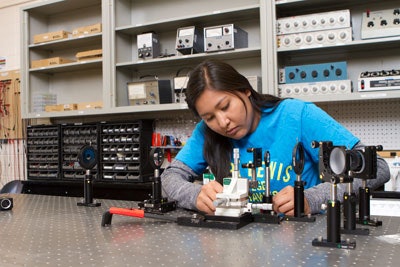 According to WICHE's data, only about 24 percent of Native students earn an associate's degree or higher, which is about half the rate for White students. Native students also are also more likely to need remedial coursework. Only about one-third of Native students who make it to college graduate within six years. At the two-year colleges, which make up half of NSIs, this rate drops to about one-fifth.
The substantial population of Native students at these institutions qualifies them for Title III grants from the federal government, and this WICHE initiative seeks to optimize those resources through collaboration and maximize outcomes across the campuses.
In the current phase of the Lumina grant, WICHE is inviting the 26 NSIs to participate in efforts to collect and share data. Garcia said clear outcomes were crucial for securing the organization's grantors.
"We are a very data-intensive organization," he said. "Our grantors require us to show them results: How many students are we reaching and how are we moving the needle?"
Unlike tribal colleges, NSIs are not controlled and operated by American Indian tribes. While tribal colleges often emphasize cultural heritage, 90 percent of American Indian or Alaska Native students attend institutions that serve broader populations. To provide a more inclusive setting for these students, the grant from Lumina will help establish cultural affinity groups and academic support resources at the 26 participating institutions.
"I'm excited for a concerted effort for Native American Indian students and the institutions that serve them," said Susan Johnson, director of organizational development and philanthropic practice at Lumina. "The majority of institutions that serve these students remain invisible in the national dialogue regarding postsecondary attainment— conspicuously absent in policy forums, journal articles and state and federal initiatives regarding underrepresented students in higher education."
The long-term goal, however, is local. Because many NSIs are in rural areas, the stakes can be high for colleges hoping to produce a strong workforce for their communities.
"Many are located next to reservations and in communities that are really economically challenged, so it really is a different character for these institutions," said Jere Mock, vice president of programs and services at WICHE.
Mock and Garcia expect to have an official consortium established by next year so the institutions can begin sharing their best practices.
"If we can get more students enrolled and graduated, they can help build the economies in their communities," said Garcia. "It's not important just for Native students, but for all students."
Joseph Hong can be reached at [email protected]