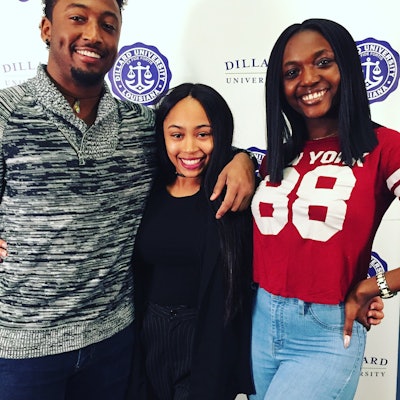 When Dr. Walter M. Kimbrough became president of Dillard University in 2012, Professor Keith Morris invited him to visit one of the classes in the film program. Kimbrough did not walk into a lecture hall full of seated students, but onto a dynamic film set filled with students working with cameras, editing footage and engaging with famous movie stars.
"I walk into this house, and I see Dillard students basically crewing the entire movie," he recalled. "They're doing everything."
The film program at this New Orleans historically Black institution is mostly the brainchild of Morris, an independent filmmaker who developed his skills working in New York City. He has also taught in film schools across the country, which allowed him to hone his teaching methods. His commitment to making Dillard's program a holistic experience immediately caught Kimbrough's attention. Today, it is one of the university's two most prominent programs.
"What Keith has been able to do is create synergy," said Kimbrough. "Students work with people when directors bring movies to town. It's not a theoretical program."
Morris arrived at Dillard in 2010, two years before Kimbrough, and immediately began to leverage the tax incentives offered to filmmakers by the state of Louisiana. The state can issue up to 40 percent in tax credits for projects, depending on the location of the film set and whether Louisiana residents provide the labor. These incentives have attracted an abundance of prominent directors and producers to the state, which ensures that Dillard students are never short on guest lecturers as well as film sets that serve as classrooms.
The program currently has about 60 students. As of 2015, the students have worked on 12 movies, interacting with stars like Denzel Washington, Wendell Pierce and Forest Whitaker on the sets of films such as The Magnificent Seven and The Butler. Denzel Washington, who has spoken at Dillard's commencement, funds a full scholarship for film students. This type of support for students, who are often from underprivileged backgrounds, allows the program to thrive.
Morris says the once dormant film program especially came to life when Spike Lee shot his 2013 film Old Boy in New Orleans. Lee allowed Morris to assign his students to important roles on the film crew. After filming for Old Boy was over, Lee offered to hire several students to work with him in New York and South America. Although the students declined so they could finish their degrees before entering the profession, the Dillard program has formed a partnership with Lee, and the director is expected to return to New Orleans for a movie he is producing.
In addition, the film program makes its equipment available to directors working with limited budgets. Morris even offers his own personal gear to attract independent filmmakers. In return, Dillard's film students get a dynamic laboratory in which they can develop and apply their skills.
"Our program is holistic," said Morris. The curriculum teaches students everything from cinematography and sound design to marketing and selling their work. The program also requires students to intern for a number of hours. "We pride ourselves on the fact that students come out and they have one foot in the technical and one foot in the creative."
Each year, new film students hit the ground running.
"When you first come, it's kind of daunting being on a professional film set," said TJ Hanlon, a first-year student. He was put on a set for a music video within the first week of classes. "For the first hour, you didn't really know what you were doing. You were just taking orders from people."
Hanlon quickly developed a rhythm, he said. By the end of his first semester, the aspiring director had worked on three professional sets.
"I've furthered my skills a lot faster than I thought I would have," Hanlon said. "It makes me very hopeful for how it's going to be after college."
Mya Young, another first-year student, prefers working on short films and music videos and has already acquired an internship with Morris' help.
"I've just been excited about that and the opportunities I can get from just being here," she said. For Young, the best part about the program is the small classes that allow professors like Morris to become familiar with each student's specialties. Young said this allows Morris to make the most effective assignments on set. "I don't feel like I can get that anywhere else."
Despite this success, both Morris and Kimbrough are hesitant about expansion. While the program recently acquired a new faculty member, Kimbrough said he wants to avoid a curriculum based on big lectures and less hands-on work. For Kimbrough, the smaller class sizes ensure optimal student success and Dillard's competitive advantage as one of the few HBCUs with a film program.
Even for students, the sense of community and purpose made possible by hands-on learning is what makes the program unique.
"It was just really different for me to see all these people coming here to do the same thing as me," said Young.
Although the culture of camaraderie and teamwork that makes a successful film crew has been instilled at Dillard, Morris says this can be a challenge for some students. For instance, a few students require extra attention to keep them focused and off their phones while they are on set.
"You don't get a second chance in film. It's hard for them to grasp at first," Morris says. "They learn really quick when they're on a real production whether they can hack it or not."
The program allows students the option to be observers, but Morris urges everyone to be active participants.
"In our program, you can be a tourist or you can be a filmmaker," he says. For those students who prefer to observe, the program provides shuttles that go back and forth between film sets and Dillard's campus every three hours. Some students, however, work over 12 hours a day on set, and a few graduate with over 1,500 hours of work experience.
"It's not made for everybody," Morris says.
As both teacher and filmmaker, Morris says the most rewarding part of the work is contributing to diversity in the industry.
"We're seeing so many top films and people in the media that are diverse," he says. "The students say, 'Oh, I can be a part of it as well.' It's pretty exciting."
As the entertainment industry strives for inclusivity, Dillard's film program is doing the work to train the next generation of artists.
"In the last couple of years there's been a lot of hand-wringing about the lack of diversity in Hollywood, and this gives us a chance to make sure that we're preparing students for all aspects of film," says Kimbrough. "We're really trying to make sure that we can provide a pipeline for the diversity of people that will enter the arts."
Alumni have gone on to graduate school at institutions like NYU or have pursued independent filmmaking careers. Others are working in Los Angeles. One graduate has started teaching his own film classes at a local high school.
"People come here to the HBCU because they are realizing the door has been open," says Morris. "It's really empowering to see my students succeeding and doing quality work."