Higher education leaders and the U.S. Department of Education's Office of Civil Rights recently gathered in the same room to discuss solutions to the challenges that institutions face addressing sexual misconduct on campus.
During the session last week at the 2018 American Council on Education (ACE) Conference titled "Our Campuses and the Office of Civil Rights: Sexual Misconduct and the Promise of Title IX," panelists acknowledged that the complexity of handling complaints makes it hard to find a singular solution when strong views and opinions are expressed on all sides about due process. Among the solutions discussed was a push for more collaboration between higher education institutions and the Office of Civil Rights around Title IX regulations and policies.
Sexual misconduct "is a societal problem that has manifested on our campuses," said Dr. Jonathan R. Alger, president of James Madison University. "They're expecting us to replicate what they see in criminal courts, but relatively few students want to go that route."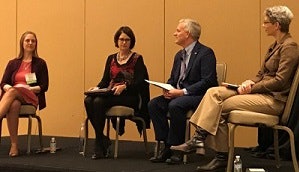 Michele Minter, vice provost for institutional equity and diversity at Princeton University, said sexual misconduct cases can be "very emotional" for those involved. There has been a tendency to oversimplify narratives and solutions regarding the issue, despite the fact that institutions vary widely in size and student demographics, she said.
Within the context of the national #MeToo movement, institutions are seeing an increase in reports of sexual misconduct. That trend should not cause alarm, officials said, because it signals that more students and faculty feel comfortable reporting an incident.
Candice Jackson, deputy assistant secretary for strategic operations and outreach at the OCR, said she hopes that the "positive signal" of increased reports eventually will lead to a decline in reports as "behavior and respect for each other" improves.
"But that's a long-term process," she added.
These pressing concerns seem to resonate across the national education landscape as schools want to do the right thing but do not know exactly what to do, Alger said.
This is where feedback from and collaboration with OCR – through sample policy models or templates, for example – would be critical to making strides in reporting and reducing sexual misconduct on campuses across the nation, some said.
"It is not an adversarial or top-down approach that needs to be taken," but an interactive and collaborative approach, Jackson said.
Minter hopes that such collaboration will support students who "need and deserve closure."
In the last year, OCR has worked to reorient its stance as an agency that does not prioritize one form of discrimination over another, Jackson said.
Due to delays in investigations of campus sexual misconduct complaints previously, agency priorities include working to shorten the time frame of its investigations and get back to its "historical goal" of a 180-day timeframe, Jackson added.
She urged schools to recognize the points of flexibility in OCR's Title IX regulatory policies that will allow institutions to implement innovative ways to address sexual misconduct on campus.
Particularly, Jackson encouraged institutions to expand their sexual misconduct conversations beyond student-to-student harassment or assault to include the reality of teacher-student, teacher-graduate student and faculty-faculty encounters. And the conversation should also include male victims, she said.
"Both men and women can be victimized, can be violated and can have the same challenges and shame of coming forward to talk about it," Jackson said. "I hope that the narrative doesn't break down along gender lines."
On creating effective solutions to address sexual misconduct, Alger said institutions do not all "need to reinvent the wheel." He suggested that it would be helpful for institutions to share their best practices for handling sexual misconduct cases.
Distribution of best practices, with the assistance of OCR, would help to illuminate trends and campus departments or organizations that may need special attention or training because they are not all the same in an institutional context, he said.
At the institutional level, the panelists said getting parents, alumni and student leaders on board for educating students about healthy relationships and alcohol use can help institutions promote bystander awareness and other preventative measures around sexual misconduct.
"Prevention is critical," as is the need for students to re-encounter this information at different points in their academic journey beyond freshman orientation, Minter urged. "Provide [students] with accurate information about what their peers are doing."
Pam Bernard, vice president and general counsel of Duke University, said, "When you look at student sexual misconduct, it's really a public health issue. You need to have a lot of communication across silos and across institutions."
So far, OCR has heard from community colleges, university systems, virtual schools and small liberal arts schools. Jackson invited institutions to reach out to OCR during a period of public comment to offer feedback and suggestions for proposed Title IX regulations.
Tiffany Pennamon can be reached at tiffany@diverseeducation.com. You can follow her on Twitter @tiffanypennamon.