It makes sense that African-American students at Princeton Theological Seminary have issued reparatory requests based on research tying much of the school's current wealth to slavery, and it's equally fitting that the school live up to its religious precepts in its response, according to some scholars.
The Association of Black Seminarians (ABS) has proposed that the seminary commit at least 15 percent of its approximately $1-billion endowment to multiple on-campus and international initiatives as an "act of restorative justice" that would "move American theological education away from its imperialistic, Eurocentric impulses towards a holistic, globally responsible posture."
Following an internal audit begun in 2016 to assess the seminary's relationship to slavery from its founding by the Presbyterian Church in 1812 to 1861 – the beginning of the Civil War – the ABS submitted a response in March to the audit report that concluded that PTS "benefited financially from those in its denominational family who owned slaves and who profited from the slave system. It also invested its funds in organizations that both profited from slavery and financed its expansion."
Based on a recommendation in the report, the seminary formed a Historical Audit Task Force last fall. Its members – a dozen administrators, faculty, students, alumni and trustees – were charged with overseeing discussions and public events of the audit report and receiving responses to audit findings.
The ABS unanimously approved a written response that laid out a lengthy list of restitution demands, beginning with allocation of at least 15 percent of the current endowment by Jan. 1, 2020. That percentage is based on the slavery audit report's finding that no less than 15 percent and possibly as much as 40 percent of the seminary's revenue and current endowment derived from the enterprise of slavery.
The proceeds – about $150 million – would fund numerous recommendations, including:
· Full tuition, fees, room and board grants for all admitted African-American students, plus 10 identical grants for admitted Liberian students in light of the seminary's "documented complicity in the creation of that nation and its ongoing exploitation by American interests."
· Ten identical grants for admitted students from other West African countries from the Senegal to the Congo, the homelands of those enslaved.
· Student loan forgiveness for all African-American alumni.
· Tuition grants for all admitted Black Th.M. students.
· An endowed Black Church Studies program with a full-time tenured chair seated on the President's Executive Committee, a full-time executive director to oversee programming and fund-raising and a full-time executive assistant.
· A distinguished visiting scholar each academic year to teach courses on African-American Christianity or the church in the African diaspora.
· A Theodore Sedgwick Wright Black Church Studies Center in the library and a full-time curator for the center.
· Black student fellowships for conducting research projects and attending academic conferences.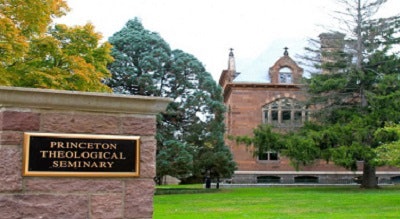 Further, ABS called on the seminary to pursue partnerships with historically Black colleges, universities and seminaries with Presbyterian affiliations and with accredited West African universities and seminaries with Presbyterian affiliations; address the "mixed legacy" of those for whom major structures are named by hyphenating those building names with distinguished African-American or pro-equality alumni; and continue efforts to increase African-American faculty and administration and to "decenter the curriculum from its Eurocentric bias."
By Thursday, ABS had collected more than 600 signatures in an online petition toward a goal of 1,000.
Dr. Tukufu Zuberi, a professor of sociology and Africana studies and the Lasry Family Professor of Race Relations at the University of Pennsylvania, called the ABS's recommendations "tremendously bold and truth-telling" and a clear call for the seminary to make amends for its place within modern world economies whose foundations were built on wealth gained from slavery or colonization.
"It is appropriate that a theological seminary should face up to the truth and should have the moral fortitude to speak truth to its own power and its own past," said Zuberi. "It is fitting that the students have been able to put their finger on this thing and to challenge the morality of this theological seminary, to challenge the accumulation of this wealth when so many for so long have been denied the possibilities of fully participating in American society."
Dr. Ivory A. Toldson, president and CEO of the Quality Education for Minorities (QEM) Network and a professor of counseling psychology at Howard University, called the student group's requests an astute "continuation of the reparations movement that goes back to Reconstruction," since which time individuals and groups have devised strategies to redress "atrocities" against slaves and their Black descendants.
"The demands are reasonable, considering the suffering Black people have endured because of the types of practices that were done," said Toldson, who also is editor-in-chief of The Journal of Negro Education. "If you look at religious institutions, it certainly stands to reason that they would be more inclined to hold true to values that uphold dignity and would want to atone for past transgressions. You would think they would be more inclined to do what's right than secular institutions. Unfortunately, the way that religious institutions have acted historically does not confirm that they would necessarily act on principle. But they should understand that their connection to their faith is contingent upon how they respond to their past transgressions."
Noting that the audit report described the seminary's involvement with slavery as a "sin" necessitating confession and repentance, ABS said it welcomed "the repentance declared, not just of slavery, but of Whiteness (white supremacy, white superiority, and white normativity)" and affirmed "the call for ongoing confession and atonement, justice-making and reconciling, and the repudiation of the practice of drawing people together inside a 'white Christian vision.'"
Dr. Anne Stewart, the seminary's vice president for external relations, said the task force has received numerous recommendations and will consider them all before making final recommendations to the trustees this spring.
The endowment is the primary way the school funds its mission, with more than 90 percent of students receiving need-based grants that cover a significant portion of their education, she said.
Dr. Gary Orfield, who taught politics at Princeton University in the 1970s and was involved in social justice efforts in the city, said the ABS's recommendations merit serious consideration given the nation's complicated history of slavery and racial subordination.
"The idea of some reparation makes sense to me," said Orfield, a distinguished research professor of education, law, political science and urban planning at UCLA and co-director of the university's Civil Rights Project. "Obviously, there's a need to do something because the moral and historical case is strong, but how to do it is very complicated."
One would be "hard-pressed to find any institution in America" that is free from the taint of slavery or the subjugation of indigenous people, said Zuberi, and days of reckoning are arriving for "a great debt that has gone unpaid" in terms of slavery.
"America wouldn't be great right now if it didn't benefit from slavery and the degradation of Jim Crow way into the Sixties," he said. "There's no way anyone can escape the impact of that on Black people."
LaMont Jones can be reached at ljones@diverseeducation.com. You can follow him on Twitter @DrLaMontJones