California's affirmative action movement faced a setback this election season.
Over 56% of Californians voted against Proposition 16, which would have removed the state's ban on public institutions prioritizing "race, sex, color, ethnicity, or national origin" in admissions or hiring. In other words, the ballot initiative would have allowed the return of affirmative action if it had passed.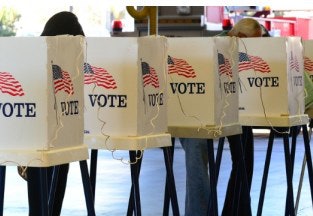 It's been, and continues to be, a long battle for the policy's advocates. California became the first state to reject affirmative action, passing Proposition 209, a statewide ban, in 1996. In total, eight states prohibit affirmative action in college admissions.
California higher education scholars were disappointed but not altogether surprised the ban wasn't overturned, despite the state's left-leaning electorate and the poignance of the national moment, with widespread anti-racist protests this summer.
For one thing, Proposition 16 was overshadowed by the presidential election, said Dr. Gary Orfield, distinguished research professor of education, law, political science and urban planning, as well as the co-director of The Civil Rights Project at the University of California, Los Angeles.
But he also felt the wording of Proposition 16 didn't properly convey its aim.
"I think we should come back to this, but I think it should be framed differently," he said. "It should be framed not as repealing an old proposition, which is how it was framed on the ballot, but it should be framed as expanding opportunity for every community in our state, increasing the capacity of our state to meet the level of preparation our labor market [requires], recognizing the fact that 55% of the students in California are Latino and only about a quarter of the students are actually White."
Research suggests that the affirmative action ban took a toll on minority student representation in the state — and swiftly. According to estimates by Zachary Bleemer, a University of California, Berkeley Ph.D. candidate in education, Proposition 209 caused a decline in underrepresented student enrollment of about 800 students, or 14%, during the 1998 school year in the University of California System.
Granted, California's public universities have made diversity gains since then, with the University of California System welcoming its most diverse class of Californians this fall, after intentional changes to admissions processes. But the numbers still don't reflect the demographics of the state, Orfield said.
A 2020 report to the University of California regents argues that "while the proportion of public high school graduates becomes more diverse, freshman enrollment at the University has not kept pace with the state's diversity."
Proposition 209 doesn't only impact minority students. The ban on affirmative action also makes it harder to diversify faculty, pointed out California Faculty Association President Dr. Charles Toombs, a professor of Africana Studies at San Diego State University. The majority of students in the California State University System are students of color, but representation for minority faculty lags behind the student body.
"It has made it difficult to do direct recruitment," Toombs said, "because [Proposition] 209 does not allow us to do it." Some campuses, however, "have been creative" in their hiring practices, wording job descriptions in ways that emphasize diversity or seeking experts in fields that attract scholars of color.
"We've had 209 for a long time, so folks have had to find a way around it," he said. In the California State University System, "where the majority of students are students of color, you really should have faculty who look like them."
To Dr. Anthony Antonio, an associate professor of education at Stanford University, the failure of Proposition 16 poses not only a practical problem for underrepresented students but signals a deeper ideological shift in the way Americans understand the role of higher education in society.
From his perspective, as employers came to increasingly require college degrees, public universities – and the entire sector – saw applications skyrocket. As a result, they became more and more selective. Amid that competition for scarce spots, people came to understand going to a selective college as a "private right" and a "private good."
"Higher education broadly is no longer seen as a public good," he said. "The idea that we should have an educated citizenry, that a better educated citizenry leads to a stronger economy, better health outcomes, lower health costs, lower crime rates, and of course social mobility that leads to lower poverty, is not quite seen as the role or the potential of higher education."
If Americans see higher education as an individual privilege, it's not a stretch to view affirmative action as "giving individuals some sort of leg up or special treatment that only benefits an individual" versus benefitting society at large, Antonio added. It's a framework he wants people to rethink "relative to vast inequities in higher education access."
And despite the demise of Proposition 16 – and the public sentiment it might reflect – scholars think California's fight for affirmative action is hardly over.
"For the moment, we have to pursue the same goal by different means," Orfield said. For example, he wants to see a renewed focus on college preparation, ensuring that Black and Latinx students have access to the high schools that tend to feed into the University of California System. He also pointed to the test optional movement, in which an increasing number of universities are no longer requiring standardized tests with the hopes of admitting more underrepresented students.
Focusing on recruitment is another way to "nip away at" racial inequities in admissions, like offering targeted supports for students of color to attract a more diverse applicant pool, Toombs noted.
"Proposition 16 was an opportunity for us to address systemic racism and to provide equal opportunity for many people in California, and we'll have to come back to it," he said. "I know as a proposition it may be a couple years before it can come forward again, but there are ways to chip away at it. We have not seen the last of Prop 16 – because it embodies social justice and racial justice – and we all want that."
Sara Weissman can be reached at sweissman@diverseeducation.com