College of Saint Mary (CSM) will be renaming one of its dormitory buildings in honor of University President Dr. Maryanne Stevens, who is retiring Jun. 30, WOWT reported.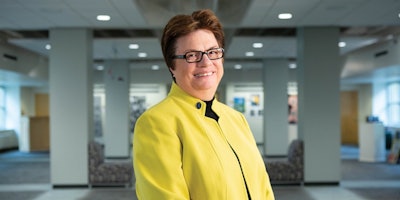 The name change will come to the Omaha college's Madonna Hall – for single mothers and their children – following a $250,000 donation from the Lozier Foundation to support the school's Mothers Living and Learning program, founded by Stevens.
The program lets single mothers pursue a full-time college education while living on campus with their children.
Since its construction in 2012, Madonna Hall has housed 205 mothers.
Other resources available to single mothers at CSM include a child development center and the Single Parent Success program.
Stevens is CSM's longest-serving president, having been in the role for more than 25 years.
"It's hard to imagine that anyone has ever modeled Mother Catherine McAuley's call to 'the careful education of women' more successfully, inclusively and creatively than Dr. Maryanne Stevens," CSM Board of Directors Chair Deb Macdonald said in a 2022 news release on Steven's retirement. "Dr. Stevens is the most dynamic leader I've worked with, whether in education or the business world. Continuous improvement is her true north, and she motivates everyone around her to join in the journey."