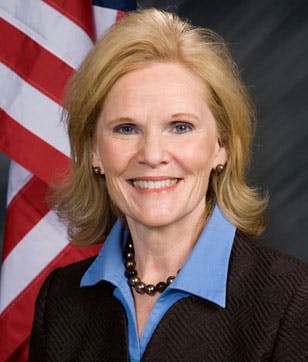 INDIANAPOLIS — Indiana's education chief says lawmakers need to make wiser investments in higher education to improve the state's college graduation rate, including new financial aid incentives for students who earn top grades and graduate on time.
Commissioner Teresa Lubbers said Wednesday that too few students are completing secondary education, and many of those who do are left saddled with debt.
"It's not an overstatement to say Indiana's future — the kind of state we will be — has more to do with education than anything else," she told about 300 people who attended her speech at the Indiana Government Center.
Her address came as the state's Commission for Higher Education is seeking a 7.5 percent increase in appropriations for the state's total higher education budget for 2013-15. The House Ways and Means Committee heard that proposal earlier Wednesday.
The Journal & Courier of Lafayette and The Indianapolis Star reported that Lubbers said one way to raise Indiana's college graduation rates is making sure that investments are leading to more graduates. She has asked lawmakers to agree on funding higher education programs at an increased rate and creating new financial aid incentives for students who earn top grades and graduate on time.
Lubbers' remarks coincided with the release of a new commission report that found just three in 10 Indiana college students complete a four-year degree on time and less than one in 10 students finish a two-year degree on time.
Indiana's public universities are under mounting pressure from the commission to increase their graduation rates. A report released last year by the commission calls for the state to increase the number of Indiana residents with a college degree to 60 percent of the state's adult population by 2025.
Currently, only about a third of Indiana adults hold at least one degree, ranging from a one-year work force certificate to a master's degree.
"We are producing too few degrees, especially in high-demand fields. And we have too much student debt, especially for those who exit college with debt and no degree," Lubber said.
Colleges are being asked to keep tuition and fees at or below the cost of inflation, while students are asked to complete courses on time and carefully choose loans.
Lubbers said that if the 60 percent college degree goal is met, annual state revenue will increase by $1.5 billion, and average incomes could jump by more than $1,800.
State Rep. Robert Behning, an Indianapolis Republican who chairs the House Education Committee, agreed with Lubbers' call for more state investment in higher education.
"In Indiana we are blessed with a surplus. Hopefully we can invest in higher ed [and] K-12," he said.
Kevin Brinegar, president and CEO of the Indiana Chamber of Commerce, said students must understand what employers want in their workers and seek out degrees in the high-demand fields of science, technology, engineering and math.
While it's "very important" for more Indiana residents to obtain four-year degrees, Brinegar said the state shouldn't "lose sight of 'middle skills' training."
"Some of the greatest demands in the work force presently are for two-year associate degrees and one-year industry-recognized certificates," he said in a statement.