Selecting a major is a difficult decision for most students as it outlines their academic trajectory, defines their early career paths, and can even lock them into a particular field. It also has major consequences for higher education institutions as enrollment managers and admissions officers must effectively evaluate majors that are the right fit for students, and programs must predict the demand for enrollment into particular "popular majors" and provide the infrastructure to support those numbers.
According to a recent study released by ACT, College Choice Report Part 1: Preferences and Prospects, nearly 80% of high school students taking the ACT selected a major they intended to declare in college. However, 64% of those students choose a major that did not fit with their academic strengths and interests. Gender played a role in selecting a major, as more females (82%) than males (77%) had planned their college majors.
"It's important for students to have the information they need to make the best decisions about their future," stated Jon Erickson, ACT president of education and career solutions. "They should be made aware that choosing a college major that reflects their interests will give them a better chance of succeeding and could also contribute to their satisfaction and happiness in school and on the job."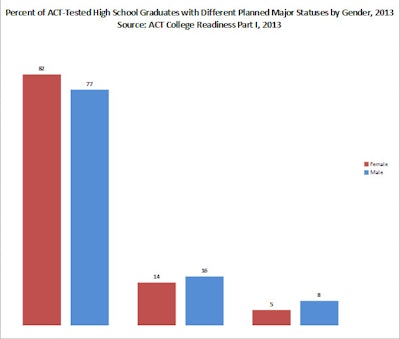 Guiding Students: Nearly 60% of ACT-tested 2013 high school graduates communicated that they needed more support with their educational and occupational decisions. Close to 70% of students who had not declared a major reported needing assistance and support. These findings reveal that high school students need more support and guidance in selecting a career path that is suitable for their skills. Students reported wanting direction and advice, but claim that high school counselors and college admissions often lack at this type of guidance.
"We must do more to help students connect their majors and, ultimately, their careers to their interests, so they can be on a path for success," said Erickson. "ACT offers a number of free resources to help students plan for college and career, and we are working to develop more to help in this area."
Picking the Right College: ACT found that a high school student's intended major can play a significant role in which college he or she chooses to attend. Nearly 50% of students who selected a college major said that an important factor for picking a college was determined if the major was offered there. Specifically, students who selected Engineering as their intended college major reported that selecting a college with that program was the most important factor.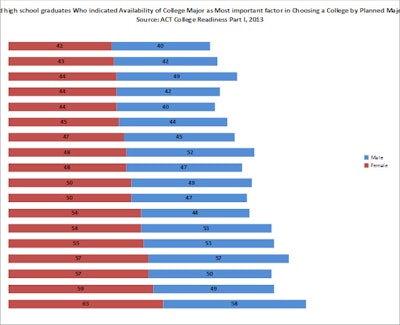 Parents' Education Level and Planned Major: Parents' educational level played a significant role in students' planned major choice. ACT reported that as parent educational level increased, the percent of students choosing a major decreased. For example, 36% of females and 30% of males whose parents earned a graduate degree or higher were sure of their major choices; compared to 51% of females and 45% of males whose parents had no-college.
Choice of Planned Major – Gender Makes a Difference: Females were twice as likely as males to select Health Science and Technologies as their major. Comparatively males were more likely to select a STEM (Science, Technology, Engineering and Mathematics) degree compared to females. For example, 17% of males selected Engineering compared to 3% of females, and 6% of males selected Computer Science and Mathematics compared to 0.9% females. Additionally, more males then females selected Business (15% versus 9%).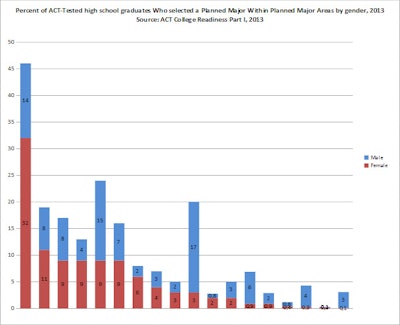 Consequences of Picking a Major: Students who select the right major, one that fits with their interests and academic talent, are likely to stay in that major, persist in college and finish their degrees in four-years. Selecting the wrong major can lead to delays in graduation; some students will switch majors several times resulting in additional courses to complete degree requirements, while other students will transfer to different schools.
"Students who start out with the right major choice can save significant time and money, which is increasingly important given the rising cost of attending college," said Erickson. "Far too many colleges require students to select a major without looking at how well the students' interests fit with their intended program of study."
You can read the full report and additional data free of charge by following this URL: https://www.act.org/collegechoice. College Choice Report Part 2 will be released in July 2014.