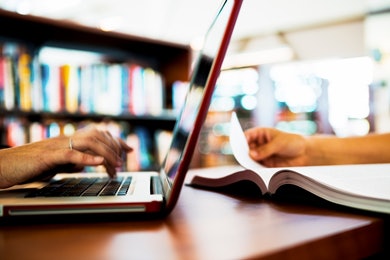 Many career technical education programs show "substantial, positive earnings effects," but a more granular look at the programs — and the characteristics and motives of students who enroll in them — is needed in order to determine which programs yield the best results.
That is one of the key arguments of a new paper released Monday by the National Bureau of Economic Research, or NBER, that examines the wage earnings of graduates of the California Community College system — the largest community college system in the nation.
"It is critical to find effective paths to human capital development for individuals who are unlikely to complete standard four-year academic programs," researchers argue in the paper, titled "CAREER TECHNICAL EDUCATION AND LABOR MARKET OUTCOMES: EVIDENCE FROM CALIFORNIA COMMUNITY COLLEGES."
"In California and the nation, declining real wages and record high unemployment for those without college degrees, combined with cuts to many state programs serving these populations, make it essential to understand what programs can be most effective," the paper states.
The paper — written by UC Davis economics professors Ann Huff Stevens and Michel Grosz, and UC Davis education professor Michal Kurlaender — comes at a time when increased emphasis is being placed on community colleges — á la the Obama administration's proposal to make community college free.
It also comes at a time when there is an increased emphasis on providing students with information on how much they are likely to earn if they enter a particular college or field of study.
Later this week, for instance, as part of Congress's effort to reauthorize the Higher Education Act, the Senate HELP committee is slated to conduct a hearing on the role of consumer information in college choice.
The authors of the paper on the California Community College system — which is made up of 112 campuses and enrolls some 2.6 million students — say their research helps fill a crucial void in this regard and that it is particularly important for prospective community college students.
"Research on the CTE mission of community colleges, the diverse needs of their students, and on the relationship between CTE program offerings and the labor market has been scarce," the paper states. "In this paper we address some of this gap by investigating the labor market returns to a wide range of sub-baccalaureate degree and certificates in a range of CTE fields."
Not surprisingly, the paper — which focused on students who earned degrees between 2003 and 2007 — found "extremely large returns" for students who enter health occupations.
"Health occupations are currently receiving a great deal of attention as promising career pathways for those without four-year college degrees," the paper states.
Specifically, the paper found that the shortest-term certificate recipients in the health field showed earning gains of about 10 percent, while the longest-term certificate and associate degree recipients showed "very large" increases in earnings, or "returns" of 50 percent or more.
The authors say the variation underscores the fact that "all CTE education programs are not equal."
"While some health occupations have double-digit returns for relatively short programs, other certificate programs offer returns that are mere fractions of those high returns," the paper states.
The paper cautions that, while it confirms the "huge potential" of health occupation training, more information is needed on the types of workers that will be able to benefit from such training.
"Many health-related programs may have substantial requirements for prerequisite courses that not all workers will meet," the paper states. "More research is needed to better understand these high returns, and to understand whether and when they will continue."
But longer-term certificates didn't always yield higher earnings.
For instance, in public and protective services, very short-term certificates yielded returns of 26 percent, but longer certificate programs in that field yielded lower returns, the researchers found.
The researchers found "little evidence of positive returns" for information technology.
However, a closer look shows the situation is more complex insofar as women with information technology certificates of 30 to 60 credits show "large, significant returns," while men with IT certificates show "low or no returns."
"Interestingly, relatively few women receive certificates and degrees in … Information Technology," the paper states.
The authors argue for more research on the labor market returns of CTE and the students who enroll in CTE programs in order to better inform policy.
"Sensible policies cannot simply funnel workers into 'high-return' programs, since underlying differences in the types of students who enroll in them could be quite important," the paper states. "In particular, a deeper understanding of how students choose their courses of study, and how redirecting students to other fields can alter their returns, remain very underexplored areas."
The authors also argue that providing "concise information to potential students and college administrators should be a top priority of workforce development policies."
The paper states that "students should, of course, be aware of the likely returns on investments they are making."
It also notes that "calls to provide better information on labor market returns have begun to be common in the broader realm of education policy, but in the CTE area, given the direct connection to labor market outcomes, this information is especially critical."
Jamaal Abdul-Alim can be reached at dcwriter360@yahoo.com. Or you can follow him on Twitter @dcwriter360.