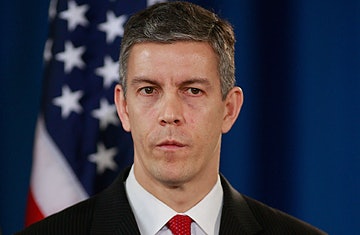 The U.S. District Court for the District of Columbia ruled Tuesday that the Department of Education can demand that for-profit schools prove that their graduates make enough money to repay their student loans.
The new rules stipulate that career training programs must show that the estimated annual loan payment of a typical graduate does not exceed 20 percent of the recipient's discretionary income or 8 percent of total earnings. The plan, which goes into effect July 2, was announced last fall as part of the Education Department's effort to end the predatory practice of fraudulent colleges targeting low-income students because of their access to federal student loans and military benefits.
Programs that don't pass the "gainful employment" standards risk losing access to federal money. The administration estimates that 99 percent of the training programs that will be affected come from the for-profit sector.
"Indeed, as numerous commentators have observed, the primary impact of the regulation will be to deprive hundreds of thousands of students of access to higher education," wrote Sally Stroup, general counsel of the for-profit trade group the Association of Private Sector Colleges and Universities. "That is inconsistent with the congressional plan under the Higher Education Act, unlawful and bad policy."
U.S. District Judge John Bates dismissed that argument and completely left the regulation intact.
"Every student who enrolls in college of any kind deserves a fair shot at a degree or credential that equips them for success," Education Secretary Arne Duncan said in a statement. "We'll continue to fight until that's a reality."