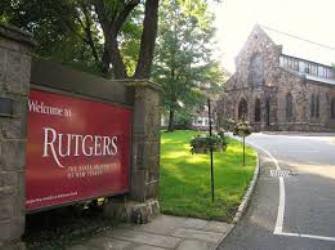 Rutgers University-Newark announced a new financial aid initiative on Thursday designed to make the college more affordable to students with a two-year degree from New Jersey colleges and Newark residents. The three-part program, called Talent & Opportunity Pathways program (RU-N to the TOP), will cover tuition and fees for students who are accepted to the university and have a household income of less than $60,000, effective fall 2016.
With this announcement, Rutgers joins a host of institutions and cities across the nation that are making college more affordable to qualified students in the surrounding area.
The new initiative is intended to be an investment in the talent to be found in the city of Newark and New Jersey community colleges, said Peter T. Englot, senior vice chancellor for public affairs and chief of staff.
"We are an institution that really understands that our future is inextricably intertwined with the future of Newark as a city," Englot said. "We view ourselves as an anchor institution in Newark and that means we understand ourselves to be about, to a substantial degree, community capacity building."
Englot noted that Rutgers students with a family income of less than $60,000 can already expect to benefit from federal, state and university financial aid. The difference that RU-N will make up is anticipated to be about $4,000 per student.
In addition to the tuition assistance transfer students and Newark residents can expect to receive, students admitted to the RU-N's Honors Living-Learning Community will receive residential scholarships.
Rutgers University-Camden (RU-C), one of three in the university's campus system, announced a similar initiative earlier this year. As of fall 2016, RU-C will be tuition free for all first-time freshmen whose families' incomes are below $60,000. Those with household incomes between $60,000 and $100,000 can expect a 50 percent tuition cut.
Staff writer Catherine Morris can be reached at cmorris@diverseeducation.com.