National six-year college completion rates have increased by 0.3% to reach 60.1%, the smallest growth rate within the last five years, according to a new report released by the National Student Clearinghouse Research Center (NSCRC).
Dr. Mikyung Ryu, director of research publications at NSCRC said the results highlighted in the report titled, "Completing College: National and State Reports," were not surprising based on how the data has been trending.
Since the 2010 cohort, six-year completion rates have increased, but the progress has started to occur at a slower pace.
"So sooner or later, we expected it was going to plateau," said Ryu. "It was just a matter of time."
Comparably, for the first time in three years, the national eight-year completion rate was 61.3%, a decrease of 0.5%. The previous rate was 61.8%, according to the report.
At community colleges, six-year completion rates, which has grown over the last two years, dropped by 0.5%. On the other hand, public four-year colleges improved by 0.7% while private non-profit four-year institutions saw an increase of 0.2%, the study found.
In terms of demographics, the six-year completion rate of community college decreased for Hispanic and Black students. Asian students however, had a 1.3% gain. Additionally, Black students held higher completion rates than White students at four-year institutions, according to the report.
"The completions rate trend is flattening for traditional age students, who comprise the vast majority of the 2014 starting cohort," said Doug Shapiro, executive director of the National Student Clearinghouse Research Center. "While adult completion rates continue to increase generally, the decline among community college starters, particularly Hispanic and Black students, threatens to reverse the improvements of the past several years."
More states experienced a decline compared to last year, especially among community colleges. Compared to last year's 33 states, only 16 increased their six-year college completion rate by at least 0.5%. Six states including New Mexico, Colorado, Georgia, South Dakota, Maine and Idaho increased by more than 1%, in contrast to 27 last year, the report found.
Community college completion rates declined in 26 out of 42 states while public four-year university rates increased in 32 out of 46 states.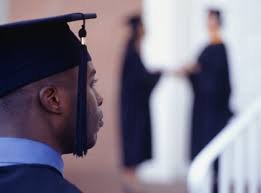 Among 18 out of 33 states, the pace of improvement steadied. New Mexico, Utah, Ohio and Nevada held a 2% less rate than last year. Lastly, the marginal increase in completion rates between the six- and eight-year outcomes diminished, which created a decline in the national eight-year completion rate, according to the report.
All of the data for the report was conducted before COVID-19.
This fall, community colleges have faced enrollment and transfer declines. Additionally, less adults returned to school in order to receive training.
Most recently, freshman enrollment saw a decline of 13%. Community colleges saw the largest decline of freshman enrollment with 18.9%, according to data from the National Student Clearinghouse Research Center.
The challenges for community colleges will be "multiplied" due to the ongoing effects of COVID-19, Ryu predicts.
"This is a really big if," she said. "If community colleges are continuing to see the same pattern that we observed this fall, I think it will change not only enrollment but the completion picture. Completely different in the way that I cannot even begin to imagine what it would look like."
Additionally, Ryu added that the pandemic's impact on colleges and universities has been unprecedented.
Sarah Wood can be reached at swood@diverseeducation.com.