In a unanimous vote Thursday, the Florida A&M University Board of Trustees appointed Dr. Larry Robinson as the 12th president of the historically Black institution in Tallahassee.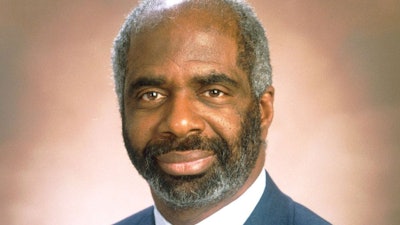 The selection of Robinson, who was serving as interim president, is an indication of the board's desire to appoint a longtime insider to the post. Robinson has been affiliated with FAMU in various positions for decades.
In accepting the appointment, Robinson said he was "humbled and overjoyed" to have the opportunity to continue to help the university move forward. "I understand the awesomeness of this responsibility. I feel very, very fortunate to be a part of your team," Robinson said in a news release from the university.
Board Chairman Kelvin Lawson noted that Robinson had support from the trustees as well as the FAMU community.
"We based our decision on data and followed our process thoroughly," Lawson said. "We all, collectively, feel good about where we are, and we feel extremely well about our new leader – President Robinson."
The board has observed Robinson's performance in the interim presidency for more than a year, since the previous president, Dr. Elmira Mangum, left amid turbulence and a 10-1 board decision after serving just over two years.
Robinson had served as interim president since September 2016. However, he twice before held that position between appointments of other leaders — from July 2012 to April 2014 and in 2007.
He has served as director of the FAMU-based National Oceanic and Atmospheric Administration's (NOAA) Environmental Cooperative Science Center. He was director of FAMU's Environmental Sciences Institute from 1997 to 2003, provost and vice president for academic affairs from 2003 to 2005, in addition to his stints as interim president.
Robinson, whose background is environmental sciences, is also a distinguished professor in FAMU's School of the Environment. He earned his doctoral degree in nuclear chemistry from Washington University in St. Louis, Mo.
Robinson stressed that he would remain student-focused.
"I want to emphasize that our No. 1 priority will be student success – fully understanding that a key element of our student success is the great work of our faculty and staff," he said.
Robinson's appointment is subject to confirmation by the Florida Board of Governors, which recently allowed the trustees to bypass the process of conducting a nationwide search for the president.
In May 2010, Robinson took a leave of absence from FAMU to serve as U.S. Assistant Secretary of Commerce for Conservation and Management at NOAA. According to his official bio, Robinson was asked to return to the university as a special assistant to the FAMU president in November 2011 and was selected again as provost and vice president for academic affairs in March 2012.