Winston-Salem State University (WSSU) has achieved many accomplishments within its School of Health Sciences in preparing Black students to be successful in health-related ­fields. One in particular is that the historically Black college and university (HBCU) is the only one in the country that has a year-round mobile health unit.
The mobile unit, called the Rams Know H.O.W. Mobile Clinic and run by WSSU's Center for Eliminating Health Disparities (CEEHD), began providing free health screening services to the East Winston-Salem or East Winston community in 2011 after receiving a gift from Novant Health.
The unit has an exam room, a lab floor for blood draws, a hearing room and other typical doctor's office amenities. Novant Health made the donation as a "way to try to address the excessive emergency room visits from our lower income residents," says Dr. Melicia C. Whitt-Glover, CEEHD's interim director. "­They wanted to try to do some[thing] to see if doing screenings in the community could help to address issues earlier before they started using their emergency room for care."
CEEHD has cared for nearly 10,000 uninsured or underinsured residents through the mobile unit since its inception, according to the university.
One of the most important people involved with the mobile unit is Aaron Jackson, the mobile clinic coordinator, Whitt-Glover says. "He does everything from patient care to addressing mechanical issues with the mobile unit to organizing and getting the mobile unit for inspection to negotiating with the city to be able to provide water on the mobile unit," she says, adding that she believes he is the "face" of the unit.
In the beginning, students and members of the East Winston-Salem community that wanted the mobile clinic to give screenings at local health events were required to make requests online four to six weeks before the date of the event.
After seeing the mobile clinic's success, WSSU students and faculty noticed the need for more readily available health care in the East Winston-Salem community.
"­There are a number of residents [in the community] who have limited access to health care because they don't have a car, they have limited mobility to take a bus to some of the physician offices, or even a hospital may take two or three transfers, and so it's very di cult to get around," says Dr. Peggy Valentine, dean of the School of Health Sciences at WSSU, adding that some residents have no health insurance or have limited health insurance or are unemployed so having a mobile unit to provide health care services for them was crucial to the community's overall health. So the university turned to the United Health Centers (UHC) for assistance in funding a second mobile unit.
The School of Health Sciences worked with UHC to receive grant funding and offer additional health services by using some of UHC's doctors for the mobile unit. In return, the school provides UHC with some of its nursing students to help with their community health events and free screenings when requested.
The relationship has been beneficial for both parties, says Felicia Bennett-Giles, the community outreach coordinator for UHC.
"We've been able to serve more people with more services, and we've had a great relationship with them," says Bennett-Giles.
"We enjoy working together and also they're trusted in the community, as we are, so it makes a great partnership."
The mobile units now offer school and work physicals, some vaccinations, STD/STI screenings, pregnancy screenings, behavioral health screenings and counseling and expanded clinical services. In addition, it's a bit larger than the first mobile clinic, having two exam rooms, a lab space, a check-in desk, a bathroom for providing samples and benches for patient education, Whitt-Glover says.
"It's been amazing to me how many people we have identified who are diabetic, have high blood pressure, who have all kinds of other health challenges that they were unaware of," Valentine says.
"When you look at the numbers [and] the forms a lot of people didn't have primary physicians or places that they would go for normal check-ups. For some people, the mobile unit was that for them, so I think that was good because we can give them the information that they need," says Taylor Daniels, a junior exercise physiology major with a minor in public health and a current CEEHD student intern.
Having some of the best college health programs in the country for Black students, a mobile unit made sense for WSSU to have that can be useful to serve the needs of the community and help with training and education for WSSU students, Whitt-Glover says.
In addition to CEEHD, students and faculty from the Department of Clinical Laboratory Science (CLS), Department of Exercise Physiology, Division of Nursing, Department of Healthcare Management, Department of Occupational Therapy and Department of Rehabilitation Counseling work in the mobile units as part of a course requirement and service learning.
In order to have and maintain student engagement on the mobile units, CEEHD tries to be creative in the layout of each unit.
"…They don't have to be on the mobile unit. Our mobile unit has an awning, we have chairs set up so we can be creative and do things outside of the mobile unit. We can provide health education outside, we can check people in outside, so that allows more students to get involved without having to physically be on the unit," says Whitt-Glover. "We want patients to feel comfortable, even while our students are learning."
However, "we don't demand our students to do this … I mean, it's part of their high-impact learning and even if they have some reservations of doing it [working in the mobile unit] in the beginning, once they start doing it they want to volunteer for more hours than they're actually scheduled for," says Georgia McCauley, chair of the CLS.
School of Health Sciences students also understand the benefits of having a mobile unit at an HBCU.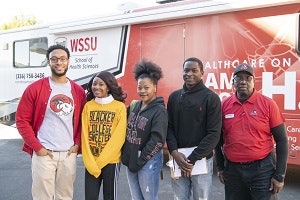 "You [Students] get a hands on experience and you also [develop] cultural competency dealing with people who are in the community and may have less knowledge than you in the area of physical science," says Samaya Byrd, a senior Clinical Laboratory Science major.
Imani Clark, a senior biology major who is involved with the research portion of the mobile unit, agrees.
"We recognize the disparity that we have amongst our community and we're doing something about it. So it's not saying that even though today it might not be the biggest thing, but further down the line it's going to help someone," she says. "I appreciate that we recognize that and we're allowing students that are in training to go out and get that hands on experience and just enjoy doing what they like to do."
The students have to learn how to articulate what they're trying to say to people who may not really understand and that's a good skill to build, especially in minority communities so they're not talking over their heads and can really relate to the person, Byrd adds. The East Winston community has been very supportive of the mobile units, Daniels says.
"I know there's people that come as regulars, they're always there. They know the schedule better than we know the schedule," she says. "I think [the community support] shows that we're something important and we're doing something important that needs to be noticed and that other people should probably try to be doing themselves."
Whitt-Glover believes that HBCUs with communities where there is a health need could do something of this sort, even if it's not a mobile clinic.
Valentine hopes WSSU can serve as a model for HBCUs to look at for helping the institutions' nearby communities.
"Sometimes we can forget about these communities and we're doing these great discoveries where we're on our campuses with research and practice, but there are people near us who can benefit from that right away," Whitt-Glover adds. "We need to make sure that we're giving back and taking care of people."
Monica Levitan can be reached at mlevitan@diverseeducation.com. You can follow her on Twitter @monlevy_.
This article appeared in the November 29, 2018 edition of Diverse.