Students at Fisk University will soon benefit from the launch of the Cravath Scholars program, an experiential learning opportunity that strengthens the historically Black university's (HBCU) ties to the premier law firm as it celebrates its 200th anniversary, according to leaders.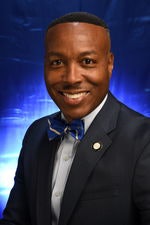 The new partnership between Fisk and Cravath, Swaine & Moore LLP adds to the Nashville-based HBCU's list of corporate partners that provide resources and experiences to students, including Google, Ingram Industries and HCA Healthcare. The Cravath Scholars program builds on Fisk's career development efforts and will provide selected high-achieving students with tuition assistance, professional development, mentorship and a summer internship at Cravath.
"We know that many of our students need financial support in order to go to college. These are great students who worked hard to get here, and we have the responsibility to create partnerships with others who can provide the financial support that they need so that they can complete college," said Fisk president Dr. Kevin Rome Sr. "We're extremely excited about the program. … We think it's important for students to have exposure to various professional and career opportunities that they can pursue."
Over the last few years, Fisk leaders have become more deliberate about how the institution engages corporate partnerships for the benefit of students, added Dr. Jens Frederiksen, vice president of institutional advancement and strategic development at Fisk.
"In part, it's because we see this massive shortage in corporate America of minority leadership," Frederiksen said. "We consider ourselves well-positioned with the caliber of students that we have to really tackle that challenge."
The premise of the Cravath Scholars program is to build a pipeline of the next generation of minority talent. The program is not limited to students interested in law, leaders said, but also students interested in marketing, communications, accounting and finance, among other disciplines.
"From its mandate in the aftermath of the Civil War to its illustrious roster of alumni, including W.E.B. Du Bois, Ida B. Wells-Barnett and Congressman John Lewis, Fisk University has played a crucial role in the progress of the United States," said Faiza J. Saeed, Cravath's presiding partner, in a statement. "It is an honor to celebrate our shared history in our bicentennial year, and to have the opportunity to contribute to the education and development of another generation of Fisk students."
Given that Fisk does not have a law school, the Cravath Scholars program is an opportunity for Cravath to engage Fisk students early in their college career. Potential scholars will be identified early based on the student's interest, their academic performance and based on corporate partner feedback – as is the case with most corporate scholarship programs at Fisk, Frederiksen said.
"We're obviously a very small school, which has the unique advantage of everyone working together and faculty and administrators and career services all being very intimately connected," he said. "We will identify those students and they will receive the scholarships with the intent of them also having expressed an internship interest, which, by now, is mandated almost for all of our students irrespective of what they plan to do thereafter."
Moreover, a student's class year does not play a major factor in their eligibility for the new scholars program and other experiential opportunities at Fisk "because we feel like there are students who are interested and ready and mature enough to know very early on in their college career where there interests lie," Frederiksen continued.
This year's program cohort will consist of two Fisk interns, with hopes that the Cravath Scholars program will grow to four or five placed interns in the coming years, leaders said. Students' scholarship award will be based on their financial need.
With plans for a new career center and an emphasis on career services and development through campus-wide programming, Fisk officials said the overarching idea for their corporate scholars programs is to have professional training and mentorship for students on a year-round basis. Students will learn about and be exposed to corporate culture and leadership, corporate networking, interview skills and other industry knowledge.
"One incredibly innovative version of this is in the case of Google, where Google actually has a faculty or teacher in residence on the campus that stays in continual communication with students," Frederiksen said.
"The idea is for Cravath to have constant involvement, whether that be in the form of visiting speakers" or other approaches, he added. "Our hope is really to build out this very holistic approach to the whole relationship. The relationship aspect is absolutely key to the success of everything."
Significantly, Fisk's partnership with Cravath on the program is due to a longstanding relationship. It was university co-founder, abolitionist and first Fisk president Rev. Erastus Milo Cravath's son, Paul Drennan Cravath, who would go on to become a named partner at the firm and serve for decades on the Fisk Board of Trustees, leaders noted.
President Rome said that he hopes to see the program grow and continue to create more opportunities for Fisk's students.
"And we want to take on other partners who look at this as a model and a way to support really bright, talented students," he said.
Tiffany Pennamon can be reached at tpennamon@diverseeducation.com. You can follow her on Twitter @tiffanypennamon.