The NAACP has offered support for Kalimah Campbell, a Florida high school student who is fighting to have her SAT test scores released after test officials claim that she cheated.
Campbell's latest score is 300 points higher than her previous score, an improvement that Campbell said is a result of hard work.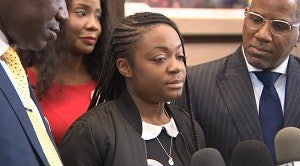 "I know from an example that you have to work hard and study and focus to achieve your dreams. And I'm not going to let ETS (Educational Testing Service) take what I earned away from me," Campbell told NBC-affiliate WMBF.
Last week, Campbell's attorney, Benjamin Crump, asked the testing service to validate and release her score or face possible legal action.
Over a dozen families have contacted Crump since the incident went public, stating that the same thing happened to their children.
In addition, Campbell has received support from the local NAACP, at least two Miami-Dade school board members and Florida Congressman Frederica Wilson.
ETS has not yet provided any evidence of the alleged cheating.