When it comes to higher education, California has not kept pace with changing workforce demands of the needs of the state's racially diverse populations. That's the finding of a new report by The Campaign for College Opportunity, a nonprofit that works to ensure that college-age students in California have the opportunity to go to college and succeed.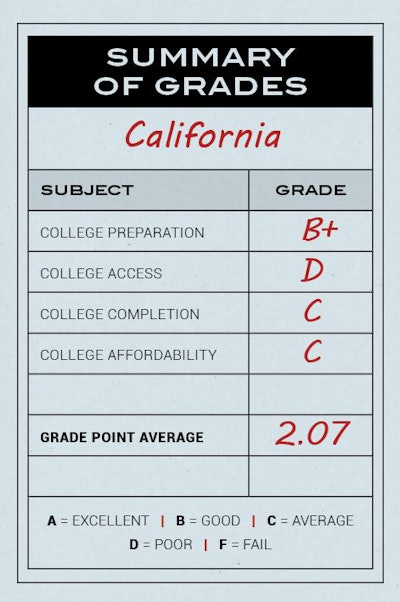 The report card provides a "snapshot" of the progress that the state is making toward reaching 60 percent adult college attainment by 2030 and closing racial equity gaps. It notes that only 34 percent of the state's Latinx high school students were provided the opportunity to complete a college-ready curriculum upon graduation. Additionally, only 41.6 percent of the state's Latinx populations between the ages of 18-24 have the support and opportunity to enroll in college, while 82 percent of Latinx adults do not have a college degree.
Economy experts predict that over the next 12 years, California will need to produce 1.65 million more college credentials.
"To continue to thrive and lead, California must address and make serious progress in closing equity gaps in college-degree completion," said Thomas A. Saenz, president and general counsel of the Mexican American Legal Defense and Education Fund. "Our next governor must make this a top priority, with well-coordinated planning, committed and swift change, and significant progress, or he will fail the future of our state."
While The Campaign for College Opportunity said that California received a "B+" when it comes to fully preparing high school students for college, it scored a "D" with regards to the number of Californians going to college. This measures both the percentage of recent high school graduates as well as workforce adults who are enrolling in college.
The state received a "C" in college completion, which measures the rate at which students who enroll in college successfully complete a program of study, and the state received a "C" in its ability to keep college affordable for California families.
"California's future economy demands an educated and highly skilled workforce," said Rob Lapsley, President of the California Business Roundtable. "To keep California's competitive edge, 60 percent of its adults must have a degree or credential, yet today only fewer than half do."
Like Saenz, Lapsley said that the state's next governor "must put forth a bold new vision for higher education, one that invests in key metrics for accountability that expand college access and achieves the 60-percent degree-attainment goal."
Michele Siqueiros, president of the Campaign for College Opportunity, said that decades ago California leaders created a Master Plan for Higher Education decades ago that made college affordable and accessible.
"It was a shining example of what a bold vision coupled with strategic planning and investment could do to prepare an entire generation to contribute economically and civically to our state," said Siqueiros. "But that legacy is at serious risk."