Johns Hopkins University will honor Henrietta Lacks, a Black woman who was the source of the HeLa cell line that has been critical to numerous advances in medicine, including the development of the polio vaccine, studies of leukemia and AIDS, and chemotherapy.
The university announced plans to name a new research building designed to "promote research ethics and community engagement."
"The building will be a place that stands as an enduring and powerful testament to a woman who not only was the beloved mother, grandmother and great-grandmother to generations of the Lacks family, but the genesis of generations of miraculous discoveries that have changed the landscape of modern medicine and that have benefited, in truth, the much larger family of humanity," said Dr. Ronald J. Daniels, president of Johns Hopkins University.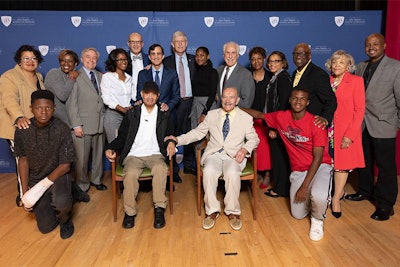 Groundbreaking is scheduled for 2020, with an anticipated completion in 2022.
Daniels made the announcement over the weekend and was joined by the descendants of Lacks, whose contributions to science were documented in the book The Immortal Life of Henrietta Lacks by Rebecca Skloot, which explored her life story, her impact on medical science and other bioethical issues. Last year, HBO and Harpo Studio released a movie based on the book with Oprah Winfrey starring as Deborah Lacks, Henrietta Lacks' daughter.
In 1951, Lacks came to Johns Hopkins for cancer treatment. A sample of her cancer cells was retrieved during a biopsy. Those cells survived and doubled every 20 to 24 hours. Johns Hopkins researchers began sharing the cells with other researchers across the globe.
"It is a proud day for the Lacks family. We have been working with Hopkins for many years now on events and projects that honor our grandmother," said Jeri Lacks, Lacks' granddaughter. "They are all meaningful, but this is the ultimate honor, one befitting of her role in advancing modern medicine."
Daniels said that Lacks' legacy will live on with the creation of the new building and he thanked her family for their support.
"We say very directly to the Lacks family, thank you," Daniels said. "Thank you for the generosity of spirit, of hopefulness, of collaboration that has marked our partnership. Thank you for lending Henrietta Lacks' name to our campus. And thank you for the things that we will do together to honor and celebrate her legacy."