WASHINGTON – In a matter of seconds, University of Maryland higher education professor Dr. Sharon L. Fries-Britt picked off one of the biggest elephants in the room and extended a data-heavy conversation from the head to the heart.
"We should be incensed by this," Fries-Britt said of a new report on race inequities in higher education released by the American Council on Education, her voice reflecting the sadness she said she felt to see evidence of disparities similar to those that existed when she began her career in higher education 38 years ago.
"We've lost ground. I feel a sense of sorrow for all of us. How bold and innovative are we going to be? Because this is no longer acceptable," she concluded to rousing applause from a multicultural audience of college administrators, faculty, students, policymakers, thought leaders, funders and other stakeholders gathered Thursday at the National Press Club for the release of "Race and Ethnicity in Higher Education: A Status Report."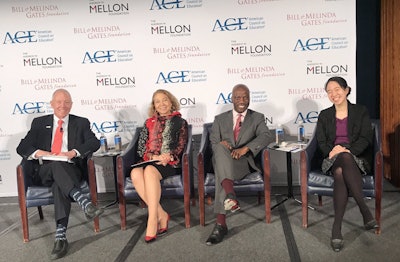 Fries-Britt was among those reacting to an executive summary of a 338-page study report that revealed persisting racial inequities across higher education. Although based on different quantitative information, it reached many of the same conclusions that some in attendance indicated they were weary of hearing.
Among key findings:
· As racial and ethnic minorities become a larger share of the U.S. population – with more than half of all current K-12 students from communities of color – they remain underrepresented in student bodies, on faculties and staffs and in administrative positions on college campuses.
· Students of color who received a bachelor's degree in 2007-08 were more likely than their White peers to enter graduate education within four years. However, the immediate college enrollment rate of Black high school graduates or equivalents ages 16 to 24 was 56.5 percent from 1996 to 2016, lower than for Whites, Hispanics and Asians, and the only group among them trending downward.
· Native Americans and Alaska Natives weren't even included in that statistic and some others, partly because of insufficient sampling in the 11 federal and nonfederal data sets used by ACE. Indigenous groups and other scholars cite this as an example of how Native groups have been rendered invisible.
· Native students enrolled in college at less than half the average national rate, were most likely to earn a graduate degree at a for-profit institution and earned significantly less than adults of other races with the same degree.
· Although Black student rates of completion from high school through graduate school increased in 2016 from 20 years prior, Black students still had some of the highest undergraduate dropout rates and lowest graduation rates, ranked first for highest borrowing and largest loan debt burdens, were least likely at every income level to attend a very selective institution and are among the last likely to start or finish an associate's or bachelor's degree in a STEM field.
· Hispanic students had the fastest rate of growth in participation in post-secondary education and were the most likely to pursue and finish an associate's degree. But they were the least likely to get that associate's in a health care field, which has the largest observed earnings gap between high school and associate's degree completion.
· While the non-White undergraduate population nationally grew from 29.6 percent to 45.2 percent from 1996 to 2016 and the non-White graduate student population concurrently increased from 29.6 percent to 32 percent, wide disparities persisted in faculty and administration diversity. Full-time faculty ranks in 2016 were 73.2 percent White, 9.3 percent Asian, 5.7 percent Black, 4.7 percent Hispanic, 3.1 percent international, 2.6 percent unknown, .9 percent more than one race and .4 percent Native. College presidents were 58.1 percent White men, 25 percent White women, 11.8 percent men of color and 5.1 percent women of color while people of color made up 42.2 percent of maintenance and service staff and one-third of campus safety personnel.
Given "ever-expanding inequalities" in higher education revealed by the study, the need for data and analysis "has never been more critical" to efforts to close equity gaps, said Dr. Armando I. Bengochea, senior program officer for diversity and director of the Mellon Mays Undergraduate Fellowship Program at the Andrew W. Mellon Foundation, which funded the study.
His comments echoed ACE president Dr. Ted Mitchell's emphasis on the need for a "deep and rigorous analysis of data and evidence" to address "deeply embedded" issues of race in higher education.
Speakers on two panels at the convening – which was cosponsored by the Urban Institute and the University of Southern California Race and Equity Center and funded by the Bill & Melinda Gates Foundation – didn't hold back in assessing the research findings.
During a panel on what the report may say about race in higher education and broader U.S. culture, Dr. Sandy Baum urged a closer look at several aspects: disaggregated data on subgroups within ethnic groups to gain a better understanding of the racial and cultural dynamics at work; exploration of why numbers are improving so much faster for Hispanic students than their Black peers; and factors that influence students before they even get to college.
"We need to make for-profit institutions better," added Baum, a nonresidential fellow at the Center on Education Data and Policy at the Urban Institute.
In fact, "segregation" of Black students at for-profit institutions leads to a heavier debt load which, in turn, contributes to widening racial disparities in wealth, said Dr. Ibram Kendi, a professor of history and international relations and director of the Antiracist Research and Policy Center at American University.
Colleges could easily improve diversity and inclusion by recruiting students and faculty of color with the same intentionality, creativity, and vigor that they use to recruit athletes of color, Kendi suggested.
Dr. Cecilia Rios-Aguilar, associate dean of equity, diversity and inclusion at UCLA, recommended more respect for and "serious public investment" in community colleges and development of "culturally relevant metrics" that elicit more data from minority groups that can be used to serve students of color better.
She also decried the dearth of data on indigenous students.
"It's 2019, and we still can't put figures in those tables," said Rios-Aguilar. "Invisibility is the modern form of racism against Native American people, and that is very troubling to me. If we don't see their needs, we're never going to meet their needs."
In the second discussion about the most critical issues facing students of color and how to address those issues, panelists took aim at top administrators.
"Leadership matters," said Dr. Mildred Garcia, president of the American Association of State Colleges and Universities. "The president sets the tone. You have to have the will."
Presidents must hold faculty accountable, and trustees must hold presidents accountable for closing equity gaps as much as they are held accountable for things like budgets, she said.
Equity gaps will continue to persist if schools don't address the rampant "racial illiteracy" among those who lead and work in schools, said Dr. Shaun R. Harper, executive director of the USC Race and Equity Center, Provost Professor of Management and Organization and Clifford Betty Allen Chair in Urban Leadership.
"Part of the persistence and pervasiveness of educational inequity is that those responsible for closing gaps don't know how to do it," said Harper. "At this point, time's up on just talking about the problems. We have to equip educators and leaders with the skills that these problems require. And it requires racial literacy. You can't do racial equity if you can't talk about race."
Echoing Kendi, Harper contended that schools would see decidedly improved outcomes for students of color if admissions officers recruited and supported them the same way coaches do athletes of color, or at least with the same determination that nonprofit schools have when marketing to and engaging students of colors.
Asked what schools should stop doing that could reduce racial inequities, Dr. Julie J. Park, associate professor in the department of counseling, higher education and special education at the University of Maryland, listed three things: "Stop acting like the campus is a race-neutral place. Stop acting like inequality before college ends once students get on campus. And stop supporting spaces that perpetuate or encourage racism."
The full report is available at www.equityinhighered.org, which also will feature report updates, essays, other content and another report with more data next year.
LaMont Jones can be reached at [email protected]. You can follow him on Twitter @DrLaMontJones