Four leaders from different walks of life talked about purpose, resilience and navigating life as a person of color at a community conversation Tuesday at American University.
"Changemakers in a Changing World: Lessons for the Next Generation" was the second in an annual series that focuses on issues of diversity, equity and inclusion.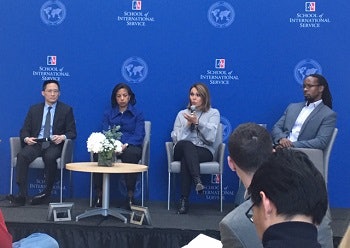 Moderated by AU president Sylvia Burwell, the panel discussion featured broadcast journalist Maria Elena Salinas; Citizen University founder and CEO Eric Liu; former national security adviser and United Nations ambassador Dr. Susan Rice and Dr. Ibram Kendi, professor and director of the Antiracist Research and Policy Center.
Being a changemaker and being resilient are intertwined, panelists told an audience of students, faculty, administrators and guests assembled in the atrium of the School of International Service.
Liu said changemaking involves civic empowerment and citizenship, explaining it in an equation: power plus character equals citizenship.
"You must be literate and fluent in power and it must be tethered to a moral core and global citizenship," he said. "That's important to any notion of changemaking."
Resilience is "vitally important," Rice agreed, but added that it "can't be taught. It comes out of experience. Yet it's absolutely critical to making change and having impact."
Changing the status quo means changing the environment and the minds of those around you, which is not easy, added Salinas.
"People don't like change, even though they want to see something different," she said.
And you need to constantly examine and critique yourself, keep growing intellectually, and love what you're doing or the people you're fighting for, added Kendi.
"Love helps you keep getting back up," he said. "And having faith that you can power through adversity, that there is a brighter day on the other side. And that you can overcome."
The panelists, all people of color, acknowledged that race and culture have influenced their lives.
Kendi, the son of Black preachers, said one of his first awakenings to "the pervasiveness of racism" in America was during his freshman year at Florida A&M University in 2000 when there were issues of Black voters being disenfranchised in the presidential election.
It was an experience that informed the race-conscious lens he would later take to writing and academic scholarship.
Salinas said her Hispanic heritage plays a "huge role" in her professional and civic life as she works to empower Latino communities. Liu has grappled throughout life with navigating "repugnant" stereotypes that historically have pushed Asian Americans outside a "Black-White binary" in race politics and into mythical categories such as the model minority and honorary White people.
Although they have been successful in their careers, none predicted when they were 18 years old that they would be on te specific career path they are on now.
But there was a lesson with universal application in each experience.
Liu, for example, aspired to play for the New York Yankees. The child of Chinese immigrants, he knew whatever he did would involve service because there was an "implicit expectation that you ought to be useful," he said.
"It's not so much about having a specific career path or plan," Liu added, "but about listening to that inner voice."
Rice, who grew up in the District of Columbia, was attracted to foreign policy and national security and wanted to be a senator.
"I knew I cared deeply about policy," she said. "I was steeped in policy. But I didn't think I had the patience or temperament to be a politician."
Salinas, the daughter of a seamstress, wanted to be a fashion designer. Inspired by her mother's strong work ethic, she began working at an early age and held various jobs. She later fell in love with television broadcasting, even though she considered herself shy.
"Life takes you in different directions and your interests change," she said. "Don't be a conformist and don't allow yourself to be mediocre."
LaMont Jones can be reached at l\[email protected]. You can follow him on Twitter @DrLaMontJones