NEW YORK–
Representatives of 17 institutions in the City University of New York (CUNY) system attended an Adult Learner Summit to discuss how to effectively address issues faced by adult learners.
Across the 25 institutions of CUNY, many students have jobs, family responsibilities and financial constraints. Some students take semesters off in order to deal with pressing issues in their lives, and some don't return.
Since 2015, CUNY has accelerated efforts to engage New York City's adult learner population and placed special focus on "stopouts," people who've dropped out before completing their degrees. Strategies are being developed to make CUNY institutions adult-friendly and also facilitate re-engagement of stopouts so they can achieve degree completion.
"In 2016 into 2017, we worked with CAEL (Council for Adult and Experiential Learning)," said Angie Datta Kamath, CUNY University Dean for Continuing Education and Workforce Development. "We had nine of our colleges agree to do a very deep 360 assessment on this notion of 'adult friendliness.' They talked to students, alumni, administrators, faculty and leadership to ask, 'What did you experience and where do you think the college is in terms of accessibility, scheduling, financial support, career support and a number of other parameters?'"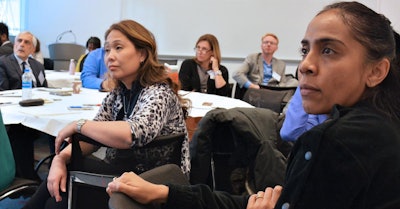 In mid-2017, CUNY was awarded the designation of "talent hub" by the Lumina Foundation. The university committed to proactively enrolling students who have some college, but no degree, to complete a credential or degree.
"From an equity perspective, these are the folks who very much want to come back to be able to advance their economic mobility and situation, but also have some real challenges to overcome from a time management perspective," said Kamath. "We care about this population. It's part of our mission."
All CUNY schools track the data on adult learners. At present, CUNY serves more than 275,000 degree-seeking students, and approximately 61,000 of the undergraduates are aged 25 or older. Kamath said scheduling and finances are two big issues for adult learners that the institutions in the CUNY system want to accommodate more effectively.
"Every school examines efforts to re-engage depending on who their student body is," said Kamath. "They're always looking at issues in terms of the concerns of prospective students."
In terms of scheduling, it's about creating evening, weekend and online courses. In terms of finances, it's offering support with financial aid and payment plans. Kamath said the institutions are trying to adapt their approaches on these issues. The schools are also examining credits for prior learning, such as that acquired during military service.
Kingsborough Community College recently launched KCC Flex, a program available evenings, weekends and online (the first online associate degree program in CUNY) or any combination of the three that the student selects. The KCC Flex team works one-on-one with students to create customized programs for more than 30 associate degree programs.
"They have math tutors because they realize a lot of adults stopped out because they couldn't path that math course," said Kamath. "They're also adding in career counselors and financial counselors."
In November 2018, CUNY partnered with ReUp Education (funded by a grant from the Bill & Melinda Gates Foundation), an organization with the mission to assist stopouts in overcoming the obstacles that keep them from returning to college. The goal is to achieve greater equity in access to higher education. ReUp reached out to approximately 20,000 stopouts and had conversations with over 8,000. ReUp and CUNY are currently studying the data.
"The final results are still coming in," said Kamath. "I don't have anything to say in terms of the actual enrollment impact of the counseling, but we have qualitative findings from the counselors."
Information from this study and a key point at the summit on June 20 at Borough of Manhattan Community College (BMCC) were supports that students need, such as better advising and counseling on finances and career options.
CUNY has been piloting some different approaches on financial policies. A couple of the colleges have done "finish line campaigns," in which they reach out to stopouts who have less than a year left for degree completion. Scholarships are offered after completion of their first semester. There are also pilot programs for people who owe balances from previous study. For those who return, they'll let them register despite the balance and if they complete a semester, the balance is wiped out.
Another effort involves a "fresh start" for people who previously had slightly under a 2.0 GPA. In these fresh start campaigns people are asked for the context under which their GPA dropped under 2.0 and what is different in their lives today. Kamath said over 100 students readmitted to BMCC had retention rates higher than the college's average retention rate and the GPA was around 3.4 on average.
"Coming back for the economic gain is a great motivator," said Kamath. "The fact that there's higher retention and better GPAs speaks volumes."
Over the next year, CUNY will develop and launch an online portal on the CUNY admissions page that will enable prospective students to find the best guidance for them. A university-wide credit-for-prior-learning policy will be developed. Financial aid policies will be developed to remove barriers to degree completion. Other customer service areas will also be addressed.
"We're doing these pilots and sharing the data, which is what we did at the summit to say, 'What might look risky at first is actually meeting adult learners where they're at,'" Kamath said. "We are planning over this next academic year to create communities of practice around re-enrollment, supports for students and credit for prior learning and how we can work with our faculty on that.
"We don't think every school should look alike," she continued. "The target markets for our different colleges will always be different. We appreciate there is diversity in how we attend to this group of adult learners."