Governors State University's Dual Degree Program (DDP), DDP-Male Success Initiative (MSI) and the Center for the Junior Year (CJY) were the center of discussion at their Summer Institute as a way to teach other institutions nationwide how to improve student's transitions from a community college to a university.
DDP helps students complete their associate's degree and then allows them to transfer to GSU, or another university, to complete their bachelor's degree.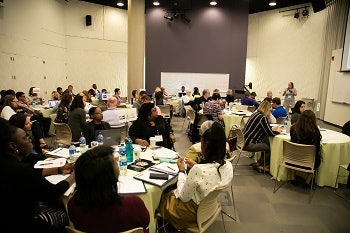 Safiyyah Shakir is currently working towards her degree in early child education at GSU as part of DDP. She originally heard about the program in December from her mother, who is a DDP participant herself. They've enjoyed sharing their college experience and regularly study together.
"I actually really like the experience of going to the same school as my mom because it's been a way for me to get to know her more," said Shakir. "It's also allowed me to learn from her, how to be a college student and how to begin adult life."
DDP provides students with networking opportunities, both with program alumni as well as GSU faculty members.
"We learn about the different departments at Governors State and we can meet teachers, even the ones that we may never have," said Shakir. "They also provide mentorship opportunities, travel opportunities and so much more."
Dr. Rosemary Johnsen, GSU's associate provost and associate vice president for academic affairs, has found that students end up with a "cohort identity" through participation of DDP. It also allows a feeling of community at a predominately commuter school.
"Participants in the Dual Degree Program do not feel as though they are one isolated student but that they are part of a program and it gives them a built-in peer group," said Johnsen. "It also addresses some of those traditional equity issues such as feeling all alone, they don't feel alone."
On the other hand, MSI is a program for male students of color that provides opportunities for professional, academic and personal development while CJY helps break down barriers for students so they can obtain academic success.
All three GSU programs aim to help underrepresented populations such as students of color, first generation students and military members.
Over the last few years, GSU worked on building relationships with institutions nationwide and spread the word about their three programs.
Last summer, institutions participated in webinars and attended general meetings in which George D. Kuh was the keynote speaker. Kuh, who is the founding director, senior scholar and co-principal investigator at the National Institute for Learning Outcomes Assessment, discussed the need for universities and community colleges to collaborate.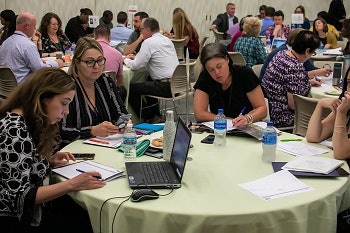 For the Summer Institute, universities were paired with community colleges in their home state. Eventually, eight teams were organized such as the partnership between Columbia College and Midlands Technical College in South Carolina as well as Rollins College and Valencia College in Florida.
At the event itself, there were 50 faculty and administrators from 17 two- and four-year private and public institutions in attendance.
"The whole concept was to have this ongoing networking to help universities and community colleges make these human partnerships," said Dr. Elaine Maimon, who is the president of GSU. "That's what is often lacking. You get snobbism on the part of the university, you get hurt feelings on the part of the community college and feeling not valued sufficiently. So our program really looks to find ways to form teams of colleagues across the community colleges and universities."
At the Summer Institute, participants attended panels and student presentations. Additionally, those pre-assembled teams discussed plans for their prospective schools to improve or establish easier transitional pathways for students.
"The idea was for them to develop an action plan so that when they go back to their campuses, they will then, through the next academic year, be working to develop these as these pathways for students," said Maimon.
Since the completion of the Summer Institute, GSU has been receiving positive feedback from participants about their experiences.
"We had a lot of people that said, 'I knew I wanted to learn more about my partner's but wow, you guys kept us really busy,'" said Colleen Sexton, who is GSU's associate provost and associate vice president for academic affairs. "I think from the feedback it wasn't just busy work. It was real work that they could leave with something in hand or a good chunk of their work done to go to their administrators and say 'here's what we want to do and here is how we want to go about doing it.'"
GSU is in the process of planning a national conference in 2020 which would provide the eight teams an opportunity to showcase what they learned as well as provide an update on their progress.
"We really wanted to instill in these participants that we didn't expect them to leave with a plan that replicated ours," said Sexton. "What we really wanted was for them to focus on their students and what students in particular they targeted."
Sarah Wood can be reached at swood@diverseeducation.com.