WASHINGTON – A crowd of people stood in the dark, surrounded by three flat-screen TVs. Black-and-white footage played of police officers pinning down students and dragging them out of classrooms. Statistics flashed across the screens.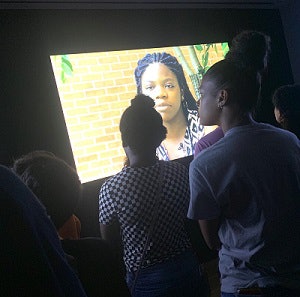 "1.6 million students attend a school with school police, but not a school counselor," one read.
The immersive digital presentation kicked off an event by two civil rights groups – the Advancement Project and the Alliance for Educational Justice – called "We Came to Learn: Defining Safety for Black + Brown Students."
At Eaton DC, a Washington, D.C. hotel, the nonprofits hosted a panel discussion on school safety and unveiled a new website that tracks police violence against students of color: www.wecametolearn.com.
The website comes a year after the participating organizations released a national report – "We Came to Learn: A Call to Action for Police-Free Schools." The report said that 24 percent of U.S. elementary schools and 42 percent of high schools have some sort of police presence, with Black and Latinx students disproportionately arrested by school officers.
In a time of school shootings, some say on-site police are necessary to keep schools safe. But these officers play a role in the school-to-prison pipeline, said Judith Browne Dianis, executive director of the Advancement Project, and they make students of color unsafe by violently penalizing them for normal childlike behavior.
"We are spending money to allow cops to assault our children, and we are giving them a pass," she said.
The site features an abridged timeline of the history of police in K-12 education and resistance to school police. During the event, a full timeline starting in 1937 stretched across the back wall in a series of posters for attendees to read.
The website also highlights student testimonies. Staff displayed the webpage on a projector, playing an audio interview with a 17-year-old student named Justin about security checks in his Miami high school.
"I don't come to school to get checked," he said. "I come to school to learn."
The website also has an interactive map called the #AssaultAt map, which shows where alleged police attacks on students occurred from 2009 to present. So far, the website documents 110 incidents. Visitors can click pins on the map to learn more about each story, including photos and videos when available.
Dianis emphasized that the map includes only a "small portion" of cases – those covered by media outlets or caught on camera.
"We shouldn't have one young person being beat down in school," she said.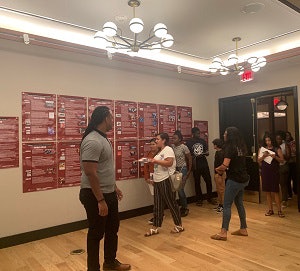 After the website launch, Dianis moderated a panel discussion about school safety for Black and Latinx students. Panelists included Jonathan Stith, national director of the Alliance for Educational Justice; Monica Acosta, director of organizing at Padres Y Jovens Unidos; Saudia Durrant, youth organizer at the Philadelphia Student Union; lead organizer Andrea Ortiz and high school freshman youth organizer Destiny Miranda of the Brighton Park Neighborhood Council.
Organizers talked about their challenges with school police in their respective areas. Acosta said her organization heard from students going to court for "crazy things" such as chewing gum in class, talking back or not wearing a school uniform.
A member of Durrant's student union – a high school junior – was punched in the face and put in a choke hold after throwing an orange at a wall, according to the report. Teachers told students to delete video evidence that later resurfaced, Durrant said.
Afterward, her group fought for a schoolwide complaint system to collect data about school police assaults in Philadelphia. The officer involved in the incident wasn't fired, however, and the bureaucracy of the school district and the local police department "made it very difficult to hold accountability."
Black and Latinx students are more often arrested at protests and walkouts, Stith highlighted, but school districts continue to employ police officers even after they cause harm. He hopes students and their advocates will use tools from the national report and website to call attention to school police violence and "define what safety is for them."
"Our young people are policed differently," Stith said. "We're really up to trying to transform society by transforming our schools."
Ortiz spoke about her work with undocumented students in Chicago, who fear school police will put them in databases of suspected gang members. Students can end up on these lists based on where they live or what they wear, she said, and the databases can be accessed by U.S. Immigration and Customs Enforcement.
She wants to "expand" the definition of "sanctuary," she said. "When we have schools that have police officers, that's not sanctuary."
Miranda suggested funneling the resources that go toward school policing to counselors, extracurricular activities, after-school programs and more.
"We deserve to go to school and not fear that the security guard is going to hurt us or is going to harass us," she said. "We deserve to go to school and have the energy to learn, and know I'm going to come out of this school with a diploma. We deserve the resources, and we deserve to not fear for our own lives as we go to school."
Sara Weissman can be reached at sweissman@diverseeducation.com.