The last time the Higher Education Act was reauthorized, Beyonce's "Single Ladies" was the number one song, said Emily Bouck West, deputy executive director of Higher Learning Advocates.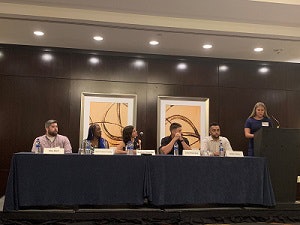 It's been 11 years, and "a lot in our world has changed," she said. "We're excited policymakers are continuing to talk about Higher Education Act reauthorization, and we think it's necessary to update policies to better meet today's students."
Bouck West is a part of Today's Students Coalition, a group of higher education advocacy organizations born in August. The coalition consists of twelve different groups, including Higher Learning Advocates, Veterans Education Success, Young Invincibles, the National College Access Network and others. The goal is to advocate for policies that expand supports for nontraditional and underrepresented students.
The coalition recently released a set of policy goals against the backdrop of the impending reauthorization of the Higher Education Act. They also held a panel discussion coinciding with the release called "Stories of Today's Students" where four student panelists shared their diverse college experiences and their hopes for higher education. On the panel, low-income students, veterans, students of color, career switchers and student parents were represented.
Panel moderator and Young Invincibles Executive Director Rachel Fleischer emphasized that nontraditional students are "the new traditional" with 37 percent of U.S. college students over the age of 25, 64 percent working while in college and 31 percent below the federal poverty line.
"You are the traditional students," Fleischer told panelists. "This whole idea of a traditional vs. nontraditional student, I think we've flipped it on its head … We've gotta flip the script, and I think you're all doing that. And I think that teachers and structures and policies need to catch up."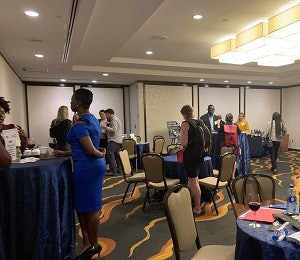 The policy goals set by the coalition focus on a few major issues. The first is food insecurity among college students. About 57 percent of potentially eligible low-income students didn't receive SNAP benefits in 2016, according to a study by the Hope Center for College, Community and Justice. The coalition is proposing to make the Supplemental Nutrition Assistance Program (SNAP), a federal program which helps low-income families buy food, more accessible to students.
The official policy recommendations describe SNAP eligibility requirements as too "complex and narrow" to ensure all low-income students can take advantage. To qualify for the program, students have to work 20 hours a week, which can be particularly difficult for nontraditional students like student parents. The proposal called on lawmakers to broaden the program's requirements, create a system to notify students when they're eligible for SNAP and continue collecting annual data on student hunger at a federal level.
On the panel, students brought up other concerns about campus food insecurity. University of Michigan junior Aidan Sova, the executive director of the Association of Big Ten Schools, said just going to the grocery store is a strain on low-income students at his university. Students without a car need to take a bus, which often involves waiting more than 45 minutes, followed by a 25-minute ride, for whatever amount of food they can carry. While there are dining plans, not everyone can afford them.
As policy advisor and executive committee member for University of Michigan Central Student Government, "the biggest complaint that I hear is about accessibility," Sova said.
But the main concern he hears from students nationwide is cost. Students "have been crying out for affordability," he said.
The coalition's policy proposals also focuses on ways to simplify the application process for federal financial aid, like reducing the number of questions on the FAFSA and streamlining FAFSA income verification, a process that requires some students to provide extra documents to prove the financial status on their FAFSA to their schools.
The coalition's recommendations also show concern that students aren't getting the amount of support they need because of FAFSA requirements that don't properly assess their financial need. For example, the group called for an increase to the income threshold for auto-zero expected family contribution – a simplified version of the FAFSA for students who aren't receiving family support – so student parents who make over $25,000 a year but still struggle can qualify. The coalition also suggested upping the amount of expected family contribution for student parents and caregivers who can't afford their expenses, even with some family support.
Panelist Osh'Shalee Handy, a student parent at Texas State University, said students in her position often don't know the financial resources available to them unless they actively seek out counselors, so it's important for schools to do more outreach.
"That's going to do tremendous things for our success and to set an example for other students who are struggling with our life issues," she said. "You have these resources. You have these people … You just need to be more aware."
At the panel event, students brought up other resources that helped them – like on-campus childcare and emergency assistance funds. John Hancock, a student veteran at Community College of Baltimore County, talked about the importance a "good support network at home" for students switching careers. Students also shared additional policies they'd like to see put in place. For example, Alex Kish, a veteran and recent graduate of George Washington Law, said it would have been "very helpful" if his monthly housing allowances through the GI Bill extended into the summer, when he was expected to intern for law school.
"Those internships are really valuable to help you get jobs," he said.
The aim of the event and the coalition's suggestions to lawmakers is to take a "students first" approach to higher education policy, said Bouck West. In the set of policy recommendations, each proposal is paired with a student story demonstrating how the current policy falls short of students' needs.
"I think policymakers are getting more familiar with the changing demographics of students," she said. "But I think we have a little bit of work to do to connect those experiences to policy solutions."
Sara Weissman can be reached at sweissman@diverseeducation.com.