High school students in a West Virginia county can now choose to start their college education a little earlier.
A partnership between BridgeValley Community and Technical College and Kanawha County School District, will enable students to earn both a high school degree and associate degree simultaneously.
Under the plan design, a high school will be located on BridgeValley's campus. The school will follow a typical high school bell schedule.
"As the students develop the skills necessary to be successful college students, we will matriculate them into programming and integrate them onto the college campus," said Peter Soscia, vice president of academic affairs at BridgeValley.
There will be five tracks available for students to choose from including business, advanced manufacturing, information technology, allied health and teaching. Additionally, the program will have industry partners where employees serve as mentors, offer internship opportunities and career development activities.
"I think it will let students develop their interest early on if there's a field they want to go into," said Dr. Ronald Duerring, superintendent of Kanawha County Schools.
Kanawha County was gifted $200,000 from the Pittsburgh-based Claude Worthington Benedum Foundation to start the program as well as hire and train teachers.
Although the initiative is in the planning stages, the county intends to implement the program next year.
The first cohort will range from 30-60 students from three of the county's high schools. The students will start as 10th graders. After the pilot program, the next cohort will start in 9th grade.
Soscia said the program, which is free, is about both social and academic development.
In terms of average completion, students in 10th grade will take three to six credits. The number will increase to 15 credits in both 11th and 12th grade. Upon graduating high school, most students will only need one more semester to earn their associate degree.
However, Soscia expects that between 10-25 percent of the students will graduate with two degrees at the same time.
"Students that come into the program will be focused really early and we should have clear objectives for them when they get out so they will get jobs or be able to transfer to a college, if what they want to do takes an advanced degree," said Soscia. "And these are students that typically may not have come to college. There's a lot of advantages that comes in a lot of different ways."
The idea for the program was created in response to the lack of "well-defined" dual credit or early college high school programs in the state, according to Soscia.
He said that support will be built-in to ensure that students have access to food, transportation and clothes. Additionally, there will be academic counselors and staff available for assistance.
"The reason this works is because you have high school faculty and college faculty all at the same time," said Soscia. "I think it is a pretty immersive experience for these students and they also have to commit to it."
Duerring said it may be difficult to find additional grant money to support the program once the original funding runs out. But, "anytime you start a new program, you are always going to have those challenges."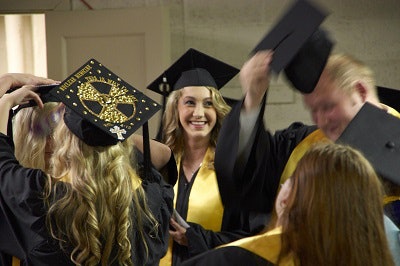 There are other national models that have implemented similar programs with a considerable degree of success.
In 2002, Microsoft founder Bill Gates and his wife Melinda Gates started the Early College High School Initiative (ECHSI) with support from their foundation. Their goal was to increase the opportunity for students who are disadvantaged to earn a postsecondary credential.
Under the initiative, Early Colleges (ECs) give students an opportunity to earn an associate degree or up to two years of college credits toward a bachelor's degree during high school.
Since its establishment, over 200 ECs have served more than 80,000 students in 31 states and the District of Columbia.
Research has shown that these programs prove to be beneficial.
Earlier this year, the American Institutes for Research (AIR) revealed research that highlighted the long-term impact of Early College programs
"Our research shows that the positive impacts of Early College High Schools continue for several years beyond high school graduation," said Dr. Kristina Zeiser, a senior researcher at AIR and director of the study. "By enrolling in and completing postsecondary education sooner than their peers, Early College students are able to fully enter the workforce more quickly and are more likely to increase their lifetime earnings potential."
Sarah Wood can be reached at [email protected]